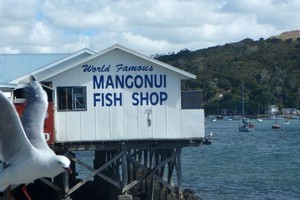 Owners of homes and businesses built over the water may be exempt from paying rates because of the new Marine and Coastal Area Act, the law drafted to replace the controversial Foreshore and Seabed Act.
The oversight is a boon to some property owners but could cost councils around the country thousands of dollars in lost rates.
Of Northland's territorial authorities, the Far North District Council is likely to be the worst affected.
Properties potentially now exempt include those built out over the water at Mangonui, Paihia, Whangaroa, Rawene and Kohukohu.
Properties at Mangonui include the famous fish-and-chip shop and the home of Mayor Wayne Brown - who is already in a dispute with the council over rates.
The Far North already has some of the greatest challenges of any local authority in the country when it comes to collecting rates, because so much of its territory is either conservation estate (unrateable) or multiple-owned Maori land (rateable in theory, but difficult to collect in practice).
It is understood the Far North District Council has been asked to report to the Department of Internal Affairs about the possible financial implications - despite earlier assurances the new law would have no direct effect on the council.
The Marine and Coastal Area (Takutai Moana) Act 2011 was supposed to restore some of the rights removed by the previous Government's Foreshore and Seabed Act, which sparked a hikoi on Parliament and the formation of the Maori Party.
A spokeswoman for the Department of Internal Affairs said the Government was aware of a potential issue with how the Marine and Coastal Area Act interacts with rating issues.
The department was currently in the process of gathering information from Local Government New Zealand and from councils to determine what, if any, practical impact it could have.
"How many and which properties are affected is what we are trying to determine," she said.
She expected it would not be possible to advise ministers until early next year.
- APNZ