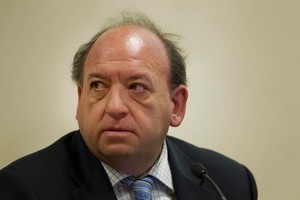 Peter Whittall, the face of Pike River Coal, is leaving the company.
Twenty-nine men died in a series of explosions starting last November 19 at the West Coast mine. A Royal Commission of Inquiry is investigating.
Pike River receivers PricewaterhouseCoopers said today Mr Whittall had been kept on to help with the insurance claim and the pending sale of the mine but would finish on November 30.
The receivers recently struck a deal with the coal mine's insurers for a full and final payment of $80 million, and the sale is at an advanced stage.
Receiver Malcolm Hollis said the chief executive role was surplus to requirements.
The company still has a head office in Wellington but Mr Hollis said it had relocated to far smaller premises with only Mr Whittall and an IT manager based there from this Friday.
Two other staff members, including engineering manager Rob Ridl, would also finish on Friday after resigning, leaving the remaining staff at the mine site north of Greymouth.
Before the explosions, Pike River employed 157 staff plus contractors.
"We will go from 20 to 18 on Friday," Mr Hollis said.
Reducing to 18 staff members was an "ideal" outcome.
"There has been a sinking lid policy as people gradually move on. We had more people than we needed to start with."
Mr Whittall, an Australian, joined Pike River Coal in February 2005 as mine manager, responsible for planning and developing the mine from the turning of the first sod. He reported to former general manager Gordon Ward.
In January 2010, Mr Whittall relocated from Greymouth to the Wellington head office, and in October 2010 was appointed chief executive, after Mr Ward left.
In the weeks after the disaster, after fronting the company to the world media, a Facebook page called 'Peter Whittall is a hero to all New Zealanders' was created.
However, during the Royal Commission of Inquiry in Greymouth last week, he sat apart from the families, who fired severe criticism at him, and he tearfully apologised to them for the way he broke the news of the second, massive explosion.
Police Superintendent Gary Knowles told the inquiry "Mr Whittall fundamentally owned this mine".
"He was Pike River."
Mr Whittall today confirmed that his departure was imminent.
Bernie Monk, a spokesman for the families of the Pike River victims, told APNZ there was "no personal vendetta" against Mr Whittall.
"There's a lot more to Pike River than Peter Whittall," he said.
The families had had nothing to do with Mr Whittall since the company went into receivership.
"Some people might be upset with things, and did say so when they were speaking at the Royal Commission," Mr Monk said.
"But we're leaving it to the commission to sort things out."
- APNZ