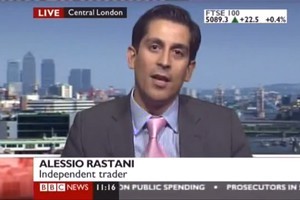 A British trader has sparked outrage by telling BBC news how he dreams of another recession because of the money he can make out of it.
"I have a confession. I go to bed every night and I dream of another recession, I dream of another moment like this," Alessio Rastani told BBC news presenter Martine Croxall on Monday, when asked if the proposed eurozone bailout would work.
Watch the interview below:
The interviewer thanked the "independent trader" for his candour but told him that "jaws had dropped" around the BBC newsroom while they listened to his answers.
"I'm a trader," he said.
"We don't really care whether they're going to fix the economy; our job is to make money from it."
"The 1930s depression wasn't just about a market crash," he added.
"There were some people who were prepared to make money from that crash. I think anyone can do that. It's an opportunity."
The three-minute clip quickly spread online, provoking outrage.
In the interview, Rastani went on to advise "everyone watching this" that "this economic crisis is like a cancer".
"If you just wait and wait hoping it is going to go away, just like a cancer it is going to grow and it will be too late."
He said it was "wishful thinking" to believe that governments could prevent another recession.
Some were as quick to praise him as others were to damn him. His dire forecast went unnoticed by wider financial markets - which rallied yesterday.
- Independent