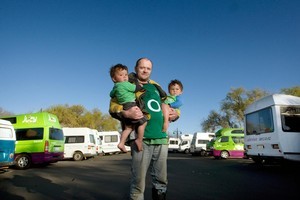 More than 200 freedom campers who parked up at at sites in Rotorua have angered some campground operators but the council Rotorua District Council says they are not breaking any laws.
The lakefront was packed overnight on Sunday, with visitors in the city for the Rugby World Cup match between Ireland and Russia. About 50 campervans were parked at the Hot Rock backpackers opposite Kuirau Park and even more parked up Sunday night at Kuirau Park. One tourist had even pitched a tent at the lakefront.
Campground operators felt that the freedom campers were setting a dangerous precedent because there were still sites available at campgrounds.
Council regulatory services manager Jim Nicklin said the council had a provision in its traffic bylaw that made it an offence to park a campervan on a road for more than seven days, which meant the campervans at the weekend were parking legally.
He said freedom camping would be raised at the next full council meeting.
"Since the Lakefront has been used by the freedom campers, the level of graffiti has ceased, as has the littering around the place," he said. "The campers have been really good. They have been very well-behaved ... we have tried to be welcoming hosts for the Rugby World Cup."
However, there had been a few complaints and "feisty emails", Mr Nicklin said.
"I can understand some people want them to stay at their camping grounds."
Rotorua Top 10 Holiday Park operations manager Jared Adams said they were booked out all weekend with hundreds of inquiries from people trying to find somewhere to park their campervans.
"We were hammered all weekend. It was hectic. We were packing people into every nook and cranny," he said. "We've been booked out for a few months now. It's not our intention to turn anyone away."
However, Mr Adams said it was to see campers at the lakefront when there were vacant sites.
"We aren't happy. We'd rather they were in a holiday park ... It's crazy, we don't like this being allowed. There are no camping signs there. We don't want people to think it's okay to do this at Christmas time.
"I find it really hard to believe everywhere was full," he said.
Rotorua Thermal Holiday Park owner Carys Ellery was disappointed to see some people had parked their campervans at the lakefront and other spots around town when there were spaces available at holiday parks around Rotorua.
- APNZ