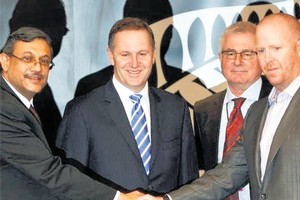 NZ Inc is getting ahead of the play with India, writes Fran O'Sullivan.
New Zealand Inc is taking on board the lessons learnt from the China free trade deal as it prepares to leverage a similar market opening with India.
There is general agreement that New Zealand businesses were slow off the mark to take advantage of the 2008 China FTA deal with an NZ Inc strategy not even formed until years after the ink was dry on the agreement. But this time round, both private and public players are putting in the spadework well ahead of the formal signing ceremonies.
Rather than say India is there "go and get it", our view is more education is required upfront," says David Green, ANZ Managing Director, Institutional.
"We also think there is an opportunity for New Zealand businesses to work together there." Green instances the successful collaborations now being undertaken in China by companies in the wine and green mussel sectors.
He says this enables the companies to implement a co-ordinated strategy to achieve returns at the "premium end of the scale."
Many of ANZ's local clients were exposed to the bustling China market during a series of roadshows that the bank led last year to leverage New Zealand's presence at the Shanghai Expo.
Green says it took a while for New Zealand to build momentum with China but businesses should already be thinking about how they should do business with India.
In a submission to a parliamentary inquiry into the proposed India deal, ANZ said it considered India a major engine for economic growth.
Already it was Australia's fourth largest export destination and there was every reasons similar benefits would be available to NZ exporters. Some of NZ's ICT companies have already got themselves established with Indian partners (see below.)
ANZ operated in India from 1984 to 2000 through its subsidiary ANZ Grindlays. It was India's largest foreign bank with a staff of 5000 servicing personal and business clients from more than 60 branches and businesses.
The highly regulated Indian economy impacted adversely on business profitability and after the 1997 Asian financial crisis, ANZ sold its operation to Standard Chartered.
The deregulation and the resurgence of the Indian economy over the past five years led to ANZ re-entering the market by opening a branch in Mumbai, India's business and financial hub. The Mumbai branch will support trade and investment flows between India and the Asia-Pacific region, including Australia and New Zealand.
Initially, it will support corporate and institutional banking clients, providing a full range of Indian rupee and foreign currency banking services, including funding and hedging solutions, trade finance, cash and payments, foreign exchange and debt capital markets and access to the bank's expertise.
New Zealand Trade and Enterprise chief executive Peter Chrisp endorses the view that NZ companies should already be doing their homework on India.
After the PM's recent Indian mission, Chrisp personally debriefed many of the participants.
Here are his seven rules for tackling the Indian market.
1) Friends first business later: If you lead by the chin it's probably not as worthwhile as building the relationship first.
2) Eyes wide open: India is not an easy market. A patient tenacious approach will get there in the long term.
3) Find the right partner: Many companies have to rethink their approaches. Better to get the right partner first up.
4) Leverage the upcoming FTA: It is the catalyst for everyone to get organised.
5) Create Coalitions of the Willing: New Zealand companies should collaborate not compete offshore.
6) Tell the New Zealand story: It's important to tell that and not simply the company story.
7) Stay close to Consumers: The market is evolving incredibily rapidly it's not a formulaic revolution and it's not the same as China.
Track record in India
Finzsoft's Andrew Holliday is not shy about pumping New Zealand's innovation track record in India.
"There are a number of proven and mature New Zealand ICT companies and solutions which are recognised globally as best of breed world-class solutions," he says.
The director of Finzsoft Solutions, one of Australasia's leading proprietary banking and finance software solution companies, says New Zealand is already providing many of the mission-critical solutions servicing global operations in the banking and finance, health, infrastructure and defence sectors.
"'We need to correct the misperception at home that we are 'breaking new ground' and taking New Zealand ICT to India and encouraging Indian ICT interests to New Zealand.
"Three of the four largest ICT companies in India are already operational directly in, and invest in, New Zealand, and all four are operational indirectly in New Zealand through Australian banking and insurance companies.
"Indian companies have recognised for some time that New Zealand holds best-of-breed world class solutions and have not waited for public or Government recognition or endorsement but have simply got on with it."
Finzsoft's "Sovereign solution" is an integrated, modular end-to-end retail, corporate and trading bank product.
During PM John Key's India mission, Holliday signed a deal with a representative of Finzsoft's India partner HCL Technologies to expand the companies' global partnership.
"We also need to correct the misperception at home that Indian companies already own competitive products to those we develop or that shared Indian companies will seek to compete directly with these products.
Holliday stresses that "by and large" the Indian ICT industry is a service-based economy.
"Indian companies recognise and seek out world-class solutions then seek to offer their service depth, capacity and global reach to partner up with NZ companies to penetrate both the Indian market and the world stage."