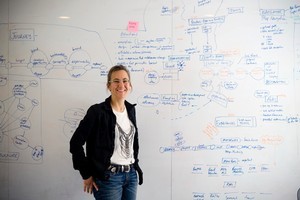 Leslie Preston, you could argue, is rather over-qualified to run a small business. The former Vodafone executive could be at the helm of a large organisation if she had the inclination.
But Preston, a mother of two, much prefers to be an entrepreneur. The American and her husband run a consultancy, Ingenio, which works with large companies, and they have four young businesses.
Bachcare, one of the four, is Preston's baby, a holiday home management business she launched with her mother-in-law Julie Ferne in December 2003 with just five Hahei houses. Ferne looked after the guests in Hahei, while Leslie looked after the owners in Auckland. "We did everything manually. I was doing all the bookings."
Today it is a full service national holiday home management company. It hosted 20,000 guests last year in 1000 houses around New Zealand with the support of 50 local holiday managers.
Bachcare holiday makers are met at arrival and departure by the Bachcare manager, who also gives them local information. For holiday home owners, Bachcare charges a 20 per cent plus GST fee per booking. On top of that, at an hourly rate, Bachcare can organise deliveries, plumber visits or checking on the place after a storm.
Nearly eight years after its launch, Bachcare is just turning the corner of profitability, says Preston. The past two years have seen 30 per cent plus growth and it will be the same again this year.
"The key has been patience and perserverance." Bachcare merged with Blue Penguin Holiday Homes three years ago and more recently bought the holiday home rental portfolio from Westerman Property Solutions bringing Bachcare 75 new home owners. It also bought the short-term rental portfolio from Waiheke Accom in May.
"In the Coromandel, we would be the biggest accommodation provider there. Around 25 per cent of all holiday homes in NZ are located in the Coromandel."
With the bulk of Bachcare houses in the North Island and a sprinkling in South Island hot spots like the Marlborough Sounds and Queenstown, there is still plenty of opportunity for growth, says Preston, who has so far declined offers to take Bachcare to Australia, America and Europe because of the NZ market's potential.
Recruiting takes a lot of effort too.
"It involves me personally meeting every holiday manager," she says. Her "ideal" holiday managers are either mothers returning to the workforce or semi-retired couples.
Although Leslie now has eight staff in the office, it may well be her answering the phone when you call on January 1 having set off without the address to your bach.
Meanwhile throughout the year, the entrepreneur is finding different markets for Bachcare, promoting some homes as wedding venues or corporate retreat houses.
In these cases, Bachcare managers can organise catering, bring in business tools such as white boards for corporate retreats. "There's no limit to what we can do."