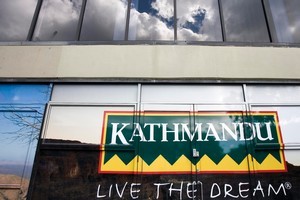 Outdoor clothing retailer Kathmandu is expected to deliver a strong full-year result tomorrow.
In a trading update released last month, the company said favourable weather on both sides of the Tasman during the year to July 31 had bolstered sales.
Pre-tax earnings were expected to be up by as much as 36 per cent at $65 million.
In a research note, Goldman Sachs & Partners Australia analyst George Batsakis said the NZX and ASX-listed retailer had an attractive valuation and favourable earnings per share growth prospects.
"Earnings growth is driven by KMD's [Kathmandu's] strong brand, vertical business model, growing outdoor sector, new store roll-out, expanded product range and increased advertising."
Batsakis said higher gross margins were expected as a result of the firm's control of discounting, as well as higher foreign exchange rates and strong sales.
Goldman Sachs & Partners has a "buy" recommendation on the stock, with an expected 12-month return on investment of 58 per cent.
Kathmandu's share price on the NZX rose 14c to $2.34 when the company delivered its favourable trading update in August, and closed up 6c at $2.11 last night.
"Despite the exceptionally challenging retail environment we are very well positioned to grow the business in the year ahead," Kathmandu chief executive Peter Halkett said last month.
Meanwhile, analysts are taking a wait-and-see approach to a new strategy unveiled by The Warehouse on Friday, aimed at returning New Zealand's biggest listed retail group to its former glory.
The Auckland-based company's new chief executive, Mark Powell, announced that the firm would spend $430 million over the next five years establishing new stores and sprucing up existing sites.
Increased investment in staff training, new-look advertising campaigns and targeted growth in product categories that were showing potential - such as health products and jewellery - are also included in the strategy.
Craigs Investment Partners analyst Chris Byrne said the new approach was bold, but not unexpected.
"It's going to take time before we have visibility on how much it's going to drive same-store sales growth, which is key for retailers," he said.
James Smalley, a client adviser at Christchurch sharebrokers Hamilton Hindin Greene, said the turnaround Restaurant Brands achieved with its KFC brand showed how big changes in strategy under new management could achieve solid results.
Goldman Sachs & Partners New Zealand retail analyst Buffy Gill said that despite being pleased with some parts of the new strategy at The Warehouse, the firm had retained its underperform view of the stock.
"We believe the market will need to see tangible earnings recovery (ie, from FY13) before the share price warrants appreciation," she said.
Warehouse shares closed down 5c yesterday at $3.33.
New peaks
Goldman Sachs estimates for Kathmandu, year to July 31, 2011:
* Net profit after tax: $38.4 million, up 36 per cent.
* Earnings per share: 19.2c, up 36 per cent.
* Dividend: 7.5c, up from 7c last year.