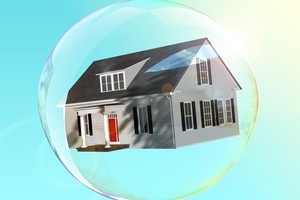 Most fans of Monty Python will remember the restaurant scene in The Meaning of Life movie, when John Cleese offers the stonkingly obese Mr Creosote a "tiny wafer thin" mint to finish off his meal.
At first, the vomit-soaked and "absolutely stuffed" Mr Creosote refuses. Then Cleese insists: "Oh, sir, it's only a tiny, little, thin, one ..."
Mr Creosote ingests the morsel and explodes in a shower of intestines. He is left sitting at his table, ribs dripping and heart beating, exposed in front of his fellow diners.
This week, I heard about a "tiny wafer thin mint" moment in New Zealand's housing market. A mortgage broker mentioned that one of the big four Australian-owned banks had offered an Auckland rental property investor a 30-year, no-interest mortgage with a loan-to-value ratio of 95 per cent.
I had thought this sort of housing-bubble behaviour had dried up during the global financial crisis. It seems it's back as banks grapple with weak lending growth.
Banks make money by lending more, then charging more for that lending. They're finding it difficult to keep their shareholders happy, who are used to double-digit profit growth and returns on equity. So they're trying again to tempt households and property investors, who are already stuffed with debt, to take on yet more debt.
Luckily for the economy, and the households themselves, most are refusing the extra mints. Household-lending growth is running at a record low annual rate of 1.2 per cent, down from the more than 15 per cent seen through much of 2004-06.
That's why the Reserve Bank seems reasonably relaxed about the return of some of the bubble-type practices.
Westpac has been advertising 95 per cent home loans for months. ASB and BNZ have also been aggressive with deals offered to rental property investors. But Reserve Bank governor Alan Bollard said he was more focused on the actual lending growth figures, rather than the practices.
Households realise they are stuffed with debt and many are having second thoughts about whether the game of hoping for tax-free capital gains will actually keep working. Firstly, there haven't been any capital gains for nearly four years in just about every area except central Auckland.
Also, the removal of depreciation allowances for property investors has fired a shot across the bows of many investors. Many more experienced property owners have become more cautious.
The real danger, though, is that a new generation of home buyers desperate to get on to the property ladder are tempted into taking on life-long debt that may prove unsustainable if interest rates increase and, heaven forbid, they lose their jobs.
Let's also hope that the banks are happy for their shareholders to take the pain, rather than the taxpayer through any new bailouts or guarantees. I want the bankers to hang around after they have placed the mint on the tongue of borrowers. Just in case Mr Creosote blows up again.