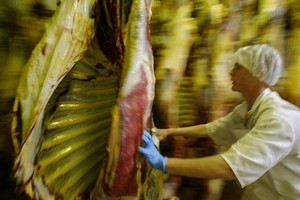 After six months of brisk growth, manufacturing output shrank again in the June quarter.
Statistics New Zealand's survey of manufacturing recorded a 0.7 per cent drop in real sales in the quarter, seasonally adjusted, after increases of 1.4 and 4.4 per cent in the March and December quarters respectively.
Excluding meatworks and dairy factories, which represent about 30 per cent of manufacturing activity, output rose 0.3 per cent, in line with the average quarterly increase in the previous two years.
But that still left it about 18 per cent below its 2005 peak, Goldman Sachs economist Philip Borkin said.
In dollar terms manufacturing sales rose 2.1 per cent to $22.5 billion.
The increase is explained by increases in meat and dairy processing, and petroleum and coal product manufacturing.
But those sectors' higher sales were entirely a matter of higher prices; in volume terms they fell 1.2 and 2.6 per cent respectively.
Excluding meat and dairy processing, stocks of finished goods at the end of the quarter were up 1.4 per cent, having declined in each of the seven preceding quarters.
The headwinds for the manufacturing sector appeared to be building, Borkin said.
"While a gradual pick-up in domestic activity should be supportive, the persistently high New Zealand dollar and slowing trading partner growth, particularly in Australia, present downside risks."
ASB economist Jane Turner said the correction followed two quarters of very strong growth.
One of the larger categories, "transport equipment, machinery and equipment manufacturing", had fallen just 0.4 per cent after the previous quarter's 12 per cent surge. "This is an encouraging sign that underlying demand remains relatively firm, despite some volatility in other components."
She said the exchange rate with Australia had helped the competitiveness of many exporters.