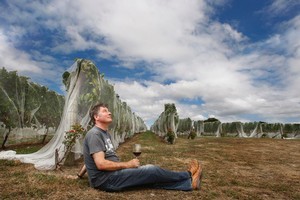 Wine industry operators aimed at the upper end of the market are reporting sluggish bookings ahead of the Rugby World Cup but are hoping for a late rush.
The event is forecast to attract up to 95,000 visitors from overseas, many expected to be high-income earners and interested in wine tourism.
One tour operator, Phil Parker, said it appeared as if rugby tourists would book once they were here.
Parker's Fine Wine Tour visits wineries around Auckland and he had taken just two firm bookings, both from Australian groups who had booked through their travel agents.
Another French group had also contacted him. "The feeling is that it is going to happen at the last minute," he said.
"Everyone is in the same boat. It's going to be spontaneous and you've got to be flexible."
Any extra business as a result of the cup during the traditionally quiet month of September is welcomed but wineries he had spoken to were also "waiting for the miracle to happen".
NZwinepro owner John McFarlane agreed that any extra shoulder season business was a bonus but so far he'd been disappointed at interest. Independent traveller bookings had been "'lousy".
As well as the high New Zealand dollar squeezing budgets, travellers appeared to be wary of booking ahead because of the large number of natural disasters disrupting travel.
"I think people are apprehensive about booking in advance and having to change their plans," he said.
"If one flight doesn't go you don't get your wine tour and you don't get your hotel. The world has become like that - maybe you'll get there, maybe you won't."
Hotels which had put up prices had hurt excursion operators. Accommodation, food and rugby tickets came before other spending.
McFarlane said he had some corporate bookings, from Australian firms Telstra and the NAB.
Villa Maria Estate said there had been a pick-up in inquiries about special cup packages it was providing and was hoping for a surge in interest when the tournament started.
Interest is strong for a festival event on September 25, the day after the All Blacks play France.
One corporate group had booked out the winery for a day in the finals week.
Wine experience manager Maree Saunders said the Auckland estate was positive, but like others in the industry bookings had been sluggish.
Ascension Wine Estate, near Matakana, had some uptake and there were private functions for some firms, including Microsoft.
"We are treating it as a nice little blip.
"We had some wine tours booked which had been pencilled in but the bookings didn't eventuate," said managing director Darryl Soljan.
New Zealand Winegrowers chief executive Philip Gregan said the cup represented a singular opportunity for the industry with $1.1 billion in exports.
Rugby tourists were coming from major markets - Britain, Australia and the US - and it was hoped they would become "ambassadors" for New Zealand wine when they returned home.
Festival events in Auckland, Marlborough, Nelson and Wairarapa would complement the work of individual wineries.
Gregan said 70 wineries would be represented in the Cloud.