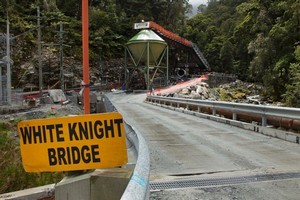 New Zealand Oil and Gas has been hit with almost $100 million in losses and provisions from its stake in Pike River Coal but is confident it could recover half that when the mine is sold.
NZOG has a 29.4 per cent stake in the Pike River mine, which exploded in November last year, killing 29 workers.
The impact of Pike contributed to a $75.9 million loss although excluding that and foreign exchange losses, normalised net profit for the year to June 30 doubled to $30.6 million.
NZOG has a secured Pike River debt of $51.5 million and unsecured debt of $14.6 million.
Its chief executive, David Salisbury, said it could "reasonably expect to recover the secured debt". Recovery of the unsecured debt was also possible, but less certain so an impairment had been taken against that and against NZOG's Pike River shareholding, which had a book value of $77.1 million.
He said indicative bids for the West Coast mine had been whittled down to "a number" of serious contenders and site visits had been arranged.
He would not give details of who was still in the running but Solid Energy has publicly declared its interest in the mine and a Chinese company is also understood to be providing a binding bid.
"The process is making good progress, there are a number of competing bidders which we find encouraging and it's helpful at the same time this mine stabilisation is almost completed."
Pike River's receivers said yesterday they hoped to have a deal done by the end of the year.
"A number of the bidders are foreign," said Salisbury.
"I would expect the final negotiation of some of the contract terms may take a little while - there are a number of sensitivities, commercial and otherwise."
The mine had insurance with an upper ceiling of $100 million and there was now good progress being made on processing the claim.
NZOG also revealed it may spend up to US$100 million ($120 million) on exploration overseas within the next six months, either in Indonesia or Tunisia where it already has smaller projects under way.
The company has cash reserves of $149 million, comprising $86 million in net cash and a $63 million fully drawn debt facility.
"If we'd just returned that capital to investors we would not be able to commit to that level."
Debt funding to pursue new deals had been difficult to raise during the past two years, Salisbury said.
He would not give any further detail on the latest prospect.
NZOG full-year revenue fell 7 per cent from a year earlier to $106.5 million, while earnings before interest, tax, depreciation, amortisation and exploration were down to $58.5 million from $64.5 million.
The Kupe gas and oil field off the south Taranaki coast now provides the highest revenue - $66.3 million - while the Tui field provided $40.1 million. In July, Tui field partners announced a likely reduction in Tui reserves to between 40 million and 42 million barrels of oil, down from the 50.5 million previously estimated.
NZOG said its most advanced opportunity lay in a permit in the southern offshore Taranaki basin, where it was looking to drill this summer. The Kakapo area was previously known as Kaupokonui, where estimates of mean prospective resources in excess of 200 million barrels of oil have been identified.
Australian listed resource company Raisama has joined the licence as a 10 per cent partner and will meet 20 per cent of the cost, subject to a cap, of the first well, with other companies reviewing detailed data as NZOG looks for an additional joint venture partner, according to Salisbury.
The drill or drop commitment deadline for the permit has been extended to January next year, but NZOG is keen to drill this summer if a suitable rig can be found.
During the year prices NZOG got for oil increased by 31 per cent in US dollars but because of the strong Kiwi dollar this reduced to 19 per cent better returns per barrel.
$8M DIVIDEND NICE SURPRISE
New Zealand Oil and Gas has surprised the market by paying a dividend for the past year.
The company will pay a fully imputed dividend of 2c per share. Following the Pike River Coal disaster, NZOG's board said in February there would be no dividend for the 2011 financial year.
However, since the start of the year its two Taranaki oil and gas fields have been providing steady cash flow.
Because of this performance the board had decided to pay the dividend which will cost around $8 million.
NZOG shares closed steady at 62c yesterday.