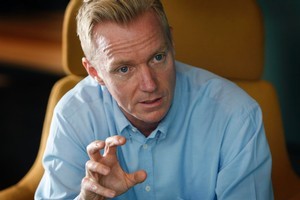 The Telecom employee who fronted up on the controversial "Abstain for the Game" All Blacks campaign is leaving the company for a top Australian job.
Telecom confirmed yesterday its head of marketing, Kieren Cooney, had resigned but said this had been finalised before the campaign was leaked to the Herald.
Mr Cooney was the company's public face of the abstinence campaign after it was revealed Telecom planned to run adverts asking fans to support the All Blacks by avoiding sex during the Rugby World Cup.
One of the television adverts featured former All Black Sean Fitzpatrick driving a dodgem car shaped like a pink fist.
The campaign is understood to have cost hundreds of thousands of dollars.
Mr Cooney said last Wednesday the campaign was a "tongue-in-cheek" way to get behind the All Blacks, but Telecom dropped the campaign two days later after a public backlash.
The company's chief executive, Paul Reynolds, said he did not sign off the campaign.
Telecom's communications spokesperson, Mark Watts, said Mr Cooney's departure had nothing to do with the failed campaign and no employees had been fired over the marketing blunder. He would not comment on whether the campaign had damaged Telecom's relationship with its advertising agencies.
Mr Cooney is leaving Telecom to take up a communications role with the National Broadband Network company, the organisation building Australia's ultra-fast internet infrastructure. He was originally appointed as head of Telecom's mobile division last April and took over as head of marketing in June 2010.
He has also held senior roles with Vodafone and was a presenter on Auckland-based music channel Max TV in 1990s, followed by Juice TV when Max folded.