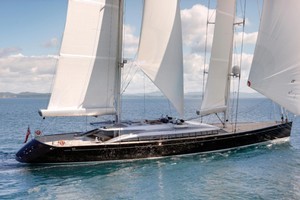 About 50 superyachts are heading for Auckland in time for the Rugby World Cup, booking out marinas and promising to boost the marine sector.
New Zealand-built luxury sailing yacht Vertigo is among those tipped to be in town for the cup. The Russians are also coming, with one superyacht owner splurging $30,000 on rugby tickets.
One 90m vessel is booked for the council-owned Jellico St berth. Others range in length from 59m to 67m.
"All are from Europe but we cannot identify them as per an agreement with the boat owners," a Waterfront Auckland spokesman said.
The executive director of the Marine Industry Association, Peter Busfield, said the superyachts were already on their way. "They're coming through the Panama Canal at the moment, from the Mediterranean, the Pacific and some are already here."
The association was organising a conference for more than 100 superyacht captains and industry leaders during the Auckland International Boat Show which had been moved to coincide with the World Cup.
"These guys employ 15 to 30 people so they've got to be skilled CEOs," he said.
The boat show will be the largest staged in New Zealand with about 100 boats in the water at a purpose-built marina and 100 boats on land.
Besides New Zealand companies, exhibitors are coming from Australia, Europe and the United States.
The influx of rugby visitors and the expected large number of wealthy individuals among them offered good prospects for the sector which had just moved into recovery following the global financial crisis.
"A large percentage of them will be interested in fishing and sailing where we're well acknowledged as world leaders," he said.
"It's been pretty tough - in the last 12 months growth has come back into the industry after a bit of a dip in 2009."
During the boom years of 2004 to 2006 about 6500 new boats were sold every year but this had fallen to 4000 a year since.
However the maintenance and refit side of the sector had remained constant and accounted for about 60 per cent of turnover.
New Zealand firms had carved out a lucrative niche in superyacht refits which are done every five years and are worth $6 million on average. Routine maintenance paid just as well.
"A grease and oil change will probably cost them half a millon dollars."
Busfield said already 500 World Cup visitors had indicated they wanted to visit boatyards while here.
"The New Zealand marine industry has always done well on the back of major events."
MARINE SECTOR
* One of NZ's largest manufacturing industries
* $700m in exports
* $2.2b in total sales
* Auckland International Boat Show Sept 15-18 timed to coincide with World Cup.