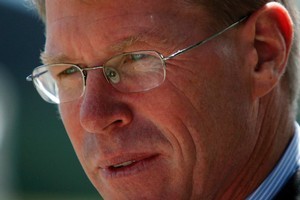 Former Wallaby captain Nick Farr-Jones is urging New Zealand businesses to "squeeze the lemon and get all the drops out" of commercial opportunities from the Rugby World Cup.
"What you don't want and can't afford is for people to fly in, have a six-week party, enjoy a World Cup and go back and only give New Zealand a second thought because it's a nice tourism destination. You need major corporations to be thinking are there major investment opportunities," he said.
"Unlike my country you're not blessed with mineral resources. You've got to think harder and outside the box and say how do we look at other ways of attracting business."
Farr-Jones led Australia to their first World Cup triumph in 1991 and is now a director of Taurus Funds Management, a global fund manager for institutional and high net worth investors.
Taurus manages investments in mining and precious metals and he is scoping opportunities in New Zealand.
Farr-Jones said some operators here had been too opportunistic.
"When we hear about some of the costs of hotels - it's not as if you have a weak dollar."