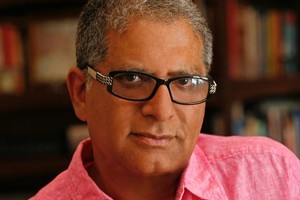 Icebreaker founder hobnobs with stars, thanks to a spiritual link.
Deepak Chopra, California's wealthy and controversial "guru to the stars", owns 15 merino clothing items made by New Zealand export success story Icebreaker.
And, strangely, he has elevated Icebreaker founder Jeremy Moon to a spiritual leadership pedestal alongside him.
At Chopra's invitation, Moon holidayed with him and his powerful friends in Costa Rica. They became close friends and Chopra helped brainstorm an idea to have "baa-codes" attached to clothing that tell the buyer which sheep station the wool has come from.
Now, 41-year-old Moon has written a chapter for Chopra's latest book, The Soul Leadership, in which he reveals his mantra for building up a $120 million international company from his bedroom. "This will work if I don't screw it up," Moon repeated to himself.
It may not have the gravitas of the teachings of the great Hindu gurus, but the mantra caught Chopra's imagination.
In his book, Chopra, 64, writes of how Icebreaker started in Wellington, "on New Zealand's South Island", [sic] and grew into the most sustainable clothing business in the world.
The guru arrives in New Zealand next week to speak at functions in Auckland. Tickets cost from $75 to $250.
Chopra has been hailed as one of the top-100 heroes and icons of the 20th century by Time and as "a pioneer of alternative medicine" by former US president Bill Clinton.
But his philosophy of "quantum healing" has been widely derided by traditional doctors and scientists, who say it has no scientific basis.
His celebrity status inspired British actor Mike Myers to make the Hollywood comedy The Love Guru, in which Myers' sleazy character seeks to depose Chopra from his slot on the Oprah show.
With Myers, Chopra's devotees include Madonna, Lady Gaga and, until their deaths, singer Michael Jackson and former Beatle George Harrison.
Speaking from Italy this weekend, Moon said he attended one of Chopra's leadership courses and the two men clicked instantly.
"I went to him and said, 'Deepak, I'm interested in the intersection between business and spirituality'," Moon said.
That afternoon, he was invited to Costa Rica to join Chopra and friends, including former president Oscar Arias and powerful Mexican banker Roberto Hernandez Ramir.
Over the next three years, Moon regularly visited Chopra's family home in San Diego, Southern California, discussing business ideas over dinner.
"I've helped him develop some of the non-profit organisations through The Chopra Foundation," he added. "We use each other as sounding boards for ideas."
Moon floated the "baa-code" concept on one of those visits. "He got really excited by it," Moon said.
"The principle he got excited by was the ability to guarantee people that they have a product of deep integrity - he said it was like throwing good karma into your clothing."
Chopra asked Moon if he would write about his success in his new book. "Nothing surprises me with him," Moon said. "I stressed about it for two weeks, but it was a great opportunity."
Renata Black is the only other person to be invited to contribute a chapter to Chopra's book - and coincidentally she, too, has a New Zealand backstory.
Black started out providing support to mentally disabled elderly people in New Zealand and now runs lingerie shows in New York and Miami to raise "micro-finance" for small businesses run by women in the developing world.