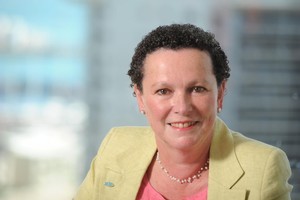 Transparency and communication are keys to understanding vision, writes Julia Stones, branch president for Auckland at the Human Resources Institute of NZ and a principal at Sheffield Consulting.
Many challenges spring up around staff issues when your business is growing fast.
Growth can create fantastic promotional opportunities for able executives if handled well by management, but there are many pitfalls.
When you have a fast-growing business, at what point should you look at putting in middle management?
Historically, New Zealand businesses have operated on a very lean basis - not surprising given the high percentage of small and medium-sized enterprises. The ratio of dedicated human resources (HR) professionals to the number of employees has often been the lowest in the Asia-Pacific region. It currently averages around one HR professional to 100 employees.
Some challenges are inherent in managing a rapidly evolving organisation. I joined a UK business of 21 employees and one core offering; we grew it fast to more than 300 people operating across four discrete areas.
The optimum time to put in middle management and a top finance executive will depend on the growth focus.
For instance, if it is growth through acquisition, then you would want an experienced mergers-and-acquisitions finance person in place at an early stage.
If it is more about growth through critical mass and growing market share, then you would need middle management there to ensure greater operational activity and productivity.
Best practice dictates that the managing director/general manager should not have more than eight direct reports on the senior leadership team.
So many small businesses do not have middle management until quite an advanced stage. What can this extra layer do?
Effective middle management ensures the operational momentum for growth continues and that senior management can focus on the strategic growth imperatives rather than trying to juggle both, so there is clear focus and quality delivery.
By delaying the introduction of middle management there is a risk to the speed of growth as the senior team becomes overloaded.
It is critical middle management are empowered with delegated authority and decision-making powers, otherwise the organisation is creating another layer of management and a potential bottleneck in terms of the speed of decision-making and growth impetus.
How can you help your staff grow with the business, give them the new skills they need so they can win promotion, yet still do their current job?
Transparency and strong communication are key here so that people in the business have a clear understanding of the vision for growth.
As the business grows and new roles are created to support that growth, the new job descriptions should be communicated to all staff and they should be circulated internally first to see if there are people within the business with the requisite skill set.
Ideally, there should be an opportunity for existing staff to develop their skills, and the business should invest in developing the missing skills identified in a skill-gap analysis.
However, if the gap is too wide or the timescale for growth does not allow for the business to invest in the individual's development, then recruitment for the new role should become external.
There are fast-growing organisations that will recruit for new roles on a concurrent basis as it allows them to benchmark their internal candidates with external applicants to ensure the best qualified candidate is in the role.
A risk is obviously attached to this strategy since if the external candidate is successful, the internal candidate can become demotivated, disengaged and leave the business unless managed effectively.
YOUR QUESTIONS
We want to solve your business problems. From tax headaches to recruitment nightmares - every week, with the help of specialists, we will answer your questions on any topic related to business.
Send your questions to Gill at: Southgill1@gmail.com