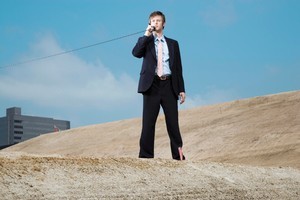 Contractors have been a growing segment of the workforce for several years and it has now reached a point where recruiters can no longer ignore this immense talent pool.
Employment agencies have long focused on simply earning a percentage of a candidate's fulltime annual salary.
But George Brooks, chief executive of OCG Consulting, says contracting is now the highest growth part of the recruitment market, particularly in industries where certain skills aren't needed full time.
"Business is now driven a lot on a per-project basis. Skills for the project may be different from the maintenance programme post-project implementation."
Bringing in a specific set of skills for a specific task for a set timeframe is particularly popular in IT, accounting, sales and marketing. It's a worldwide trend based partly on the limited attention span of younger workers.
"One of the dynamics driving the availability of contractors is that the emerging demographics are keen on short-call projects as opposed to long-term careers in one place. Contracting has become a profession of choice."
Older generations valued job security but as there is less of that these days, younger workers aren't sacrificing much to be contractors. In fact, they're quite happy to be paid more money to work a short-term contract and take breaks in between to holiday where and when they want.
"Younger workers are quite mobile ... two years is quite often a long time in a role for them."
What the older generation may view as stability, younger workers may see as restraint. They're not following their parents' traditional workflows and patterns, Brooks says.
"They seem to be less shackled than their parents. Parents are shackled by mortgages and the like and there are fewer of those traditional constraints on them so they're not too concerned about gaps in work."
Most contractors are self-employed and GST-registered. Their higher hourly rate compensates for the lack of holiday pay, insurance or KiwiSaver. Brooks says they are short on contractors in just about every discipline.
"If you're good, you'll probably be in ongoing contracts."
The IT sector is particularly dependent on contractors who can demand quite a premium for their services. Programmers and project managers often have to be sourced from overseas while local Kiwi talent is plucked by the Australians.
If two large Auckland corporates decide to implement an enterprise resource planning system (ERP) or a customer relationship management (CRM) solution at the same time it can consume just about the entire IT labour force.
Contractors are also used in traditional ways to cover maternity leave, secondments or sabbaticals. A prime benefit to employers is that, in most cases, employment law does not apply because the contractor is self-employed.
"You can bring them on when you want to and you cease a contract when you need to or when the project's done. You don't have any of the employee obligations, liabilities or headcount issues."
There are some exceptions to this if a contractor is brought in full time for an extended period of time or if a single employer makes up a large percentage of a contractor's overall income.
Where traditional recruitment models saw the recruiter paid a chunk of annual salary, OCG takes a portion of the contractor's hourly rate. They have launched a website at contractors24seven.co.nz which lists CVs of contractors available. Unlike other online CV sites such as LinkedIn, these CVs have been fully vetted and qualified.
"The contractors have been interviewed, reference checked and qualifications checked.
"So you know if you take a contractor off our site you're getting hard real-life data, not just what someone's posted up about themselves. You've got to have integrity of your information there."
Brooks says Contractors 24seven is local Kiwi intellectual property. "When we looked at the opportunity and the problem we were trying to solve with Contractors 24seven we looked everywhere for a model that we could perhaps mimic or improve on.
"We couldn't find anything like this in the world. There are lots of unqualified websites."
OCG contracted out the development of the Contractors 24seven website. Brooks says that since it is a first they will be making some adjustments to it. They plan on adding to the eight industries they work with already. Brooks also expects other recruitment companies to start to engage the contracting workforce more actively.
OCG contacts its contractors weekly to update their availability and costs. They work with contractors who charge from as little as $25 an hour. If a contractor is taken on as a member of a company's permanent staff, then OCG charges according to the traditional recruitment model. "If you have a contractor and say, 'Look, I want you to work here for good,' we charge a fee. But it's $8.50 per hour for a contractor."
That $8.50 is charged to the employer on top of the contractor's hourly rate. Contractors don't have to worry about chasing up several different organisations to get paid.
Contractors 24seven pays contractors weekly and collects from the employers itself on a monthly basis.
"We take care of all the credit risks for the contractors. We pay them and then it's our job to collect the payment."
With contractors working for various organisations, it can sometimes be an issue to co-ordinate the timing of the contracts so that there is not too much space between contracts.
"A lot of contracts don't need to start immediately so a client will wait for a particular skill set or person to be available if they're able to. In IT, quite often they have to wait for quite some time."
Since employers are sorting through the blind CVs on the site, they are doing some of the recruiting work themselves which helps reduce the costs.
"It allows clients to manage their own contracting databases at low cost and high speed. We'll become less relevant to our clients unless we have this type of delivery mechanism for them."
Contact David Maida at:
DavidMaida.com