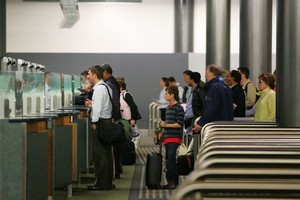 The number of short-term visitors to New Zealand dropped 10 per cent last month as the ash clouds from Chile's Puyehue-Cordon Caulle volcano disrupted travel and cancelled flights.
Just 131,269 people came to visit New Zealand in June, compared to 145,825 the same month a year ago, according to Statistics New Zealand. That's about 10,000 fewer visitors than in the month of May, and is the smallest number of arrivals for a June month since 2003.
The bulk of the slow-down came from Australia, which had 11,400 fewer visitors jumping across the Tasman.
"Many flights both in and out of New Zealand were cancelled in June, due to the ash cloud caused by the eruption of Chile's Puyehue-Cordon Caulle volcano," the report said.
"The drop in visitor arrivals from Australia is largely due to the ash cloud disrupting flights."
New Zealand's tourism sector is hoping the Rugby World Cup which starts in September will kick-start a stalling industry which has struggled since the global recession in 2008 and the 2009 swine flu pandemic.
In May, government data showed spending by tourists fell 6.1 per cent to $5.6 billion in the 12 months ended March 31, as people decided against long-haul travel and fewer Australians were attracted to New Zealand for short holidays.
The number of New Zealanders leaving the country exceeded the number of new migrants by 733 in June, though there have been 3867 more people migrate than depart through the 12 months through June 30.
Still, the number of kiwis leaving for Australia is on the rise again, with a net 3147 New Zealanders shifting across the Tasman. That's the biggest net outflow for a June month since 1981, and takes the annual exodus to 29,915.