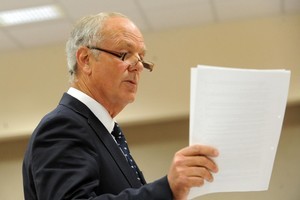 The Department of Labour has only one staff member to check the safety of mines, the Royal Commission of Inquiry into the Pike River mine disaster was told yesterday.
Department health and safety inspector Michael Firmin told the three-man commission investigating the deaths of 29 workers at the mine last November that he was currently the department's sole mine inspector.
The department was trying to find a replacement for a colleague who left about three weeks ago but ideally there would be four inspectors.
The inquiry heard criticism of the limited inspections conducted by the Department of Labour, with some arguing that doing away with the former dedicated mines inspectorate had contributed to the tragedy.
Lawyer for the victims' families, Nicholas Davidson, QC, yesterday referred to a review after the tragedy into the department's interactions with Pike River Coal, which he said showed the department was "coming up short" because of a lack of resources.
The inquiry has heard that the department's two health and safety inspectors responsible for underground coal mines aim to visit each mine every three months. One of those two roles is vacant. This compares to seven specialist inspectors in 1998.
Mr Davidson asked Department of Labour workplace health and safety policy manager James Murphy whether increasing resources for mine inspections meant taking resources from other industries. Mr Murphy said prioritising of the department's "finite" resource was an ongoing issue.
Mr Davidson put it to Mr Murphy that the existing inspection regime was a "dramatic difference" to the old regime where visits were far more frequent. Mr Murphy said the old regime was heavily weighted in favour of inspectors taking a "hands on" role.
"The change that was made was made with a view to establishing a greater degree of independence of the inspectorate from the mines ... and for mines to take more ownership of their own health and safety issues."
Mr Davidson put it to Mr Murphy that it was a "massive assumption" that the mines themselves would effectively take on that health and safety role. Mr Murphy: "I have no indication, sir, that mines are not able to fulfil that role".
- additional reporting by NZPA