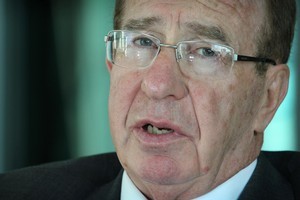 Christchurch earthquake claims against global insurer Lloyd's will amount to about $2 billion, says the firm's chairman, Peter Levene, Baron Levene of Portsoken.
In a breakfast address to members of the Insurance Brokers Association of New Zealand yesterday, the peer said the business had analysed the scope of financial damage.
"There are a number of overseas insurers, of which Lloyd's is one, who through reinsurance activities will be able to support the local market. We estimate claims to Lloyd's of around $2 billion."
Despite widespread reports of slow Christchurch insurance payouts, he said speed was important.
"Our priority at the moment is to deal with claims as quickly as possible so that people can restore their lives and businesses to some sort of normality. Despite a series of devastating events in the first few months of this year, Lloyd's is in robust financial health and we are committed to meeting all our valid claims in New Zealand."
From January to March this year, Lloyd's had more claims than during all of 2010, he said. "Lloyd's is closely involved in this tragedy," he said of Christchurch.
Today he will visit the city and meet Earthquake Recovery Minister Gerry Brownlee there.
"New Zealand may be a relatively small market for us, only 47th in the league table of insurance markets, but at the moment it is one of our top priorities. That is why I am here and it is why David Lange, Lloyd's head of claims, visited last month," he said.
"New Zealand will recover. Why can I be so certain? Because New Zealand is a rich, developed country which had insurance," he said, contrasting the Christchurch earthquakes with devastation caused in Haiti.
"The Earthquake Commission has received over 300,000 claims. They anticipate total claims will run into the billions of dollars. This is an enormous sum for a small market. But we have been impressed by how the market has coped."
He said he was aware many New Zealanders were anxious about global insurers losing their appetite for business here.
"Lloyd's is not a straightforward insurance business. We are a market made up of over 70 different syndicates. And we are of course subject to market forces and like everyone else we must manage our exposures in particular markets carefully.
"But we also have a famous appetite to help business manage their risk and I know that Lloyd's syndicates continue to be involved in this market. I hope that will continue but it will inevitably depend on rates reflecting the risks involved. That is only fair to our clients across the world who rely on us for their security."
LLOYD'S
* World's oldest insurer.
* Started in 17th century coffee shop.
* First insured ships and cargo.
* Expanding in China, Latin America, India, Middle East.
* Covers oil rigs, wind farms, airlines, space shuttles.
* Provides insurance to 200 countries.
Source: Lloyd's