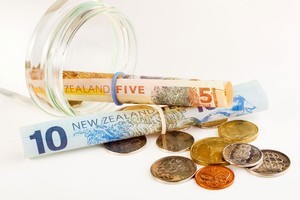 The odds of an early start to interest rate rises have strengthened with inflation running hotter than expected in the June quarter.
Financial markets are pricing in an 80 per cent chance of an increase in the official cash rate by October, from its current historic low of 2.5 per cent, and 30 per cent chance of an increase as soon as September.
Statistics New Zealand yesterday reported a 1 per cent rise in the consumers price index in the June quarter - above market expectations of 0.8 per cent and enough to push the annual rate to a 21-year high of 5.3 per cent.
Excluding last October's increase in GST, the annual rate would still have been 3.3 per cent, which is above the top of the Reserve Bank's target band of 1 to 3 per cent over the medium term.
Nearly half of the annual inflation is in the necessities, with petrol up 20 per cent, food up 7 per cent and electricity up 8 per cent.
While this reduces the amount households have to spend on other things, and thereby reduces other retailers' pricing power, it also enflames perceptions of how rapidly the cost of living is rising.
That calls into question one of the Reserve Bank's key assumptions behind the benign inflation projections in its monetary policy statement last month, that "recent increases in surveyed inflation expectations will be shortlived".
Price rises became more widespread in the June quarter with 66 per cent of the index (by expenditure weight) rising, compared with 59 per cent in the March quarter.
Measures of core inflation were mixed: non-tradables inflation was 0.6 per cent for the quarter and the median price increase was 0.5 per cent.
But the 10 per cent trimmed mean measure, which disregards the largest price rises and falls and reflects the broad mass of prices in between, rose 0.9 per cent in the quarter, as did the CPI excluding petrol.
Underlying inflation was clearly warming, Westpac chief economist Dominick Stephens said.
Construction costs rose 0.9 per cent. "That could be the thin end of the wedge as far as quake-related construction price hikes go. And rents rose 0.5 per cent, on top of 0.6 per cent in the March quarter. We think there is a lot further to go in that dynamic," he said.
The case for higher interest rates was clear, Stephens said, with growth and inflation both running stronger than expected and inflation expectations around 3 per cent in the Reserve Bank's own survey.
"As for when they choose to start, what might give them pause for thought is the higher exchange rate and gathering clouds around sovereign debt issue in both Europe and the United States."
ANZ chief economist Cameron Bagrie said a 2.5 per cent OCR was simply inconsistent with the outlook for inflation.
"There is not much room for the bank to absorb any more upside surprises for inflation. With inflation expectations already at elevated levels and recent evidence pointing to less spare capacity, we struggle to see how the Reserve Bank's projections of inflation heading towards 2 per cent by early next year can be achieved."
Tradables inflation, which cover those items such as food and fuel whose price is influenced by international prices and the exchange rate, was 1.5 per cent for the quarter and 5.5 per cent for the year.
"Imagine where inflation might now be had the New Zealand dollar not appreciated as aggressively as it has," said Bank of New Zealand head of research Stephen Toplis.
"Which begs the question as to how much more we can rely on the currency to do all the work to contain inflation instead of domestic interest rates also playing their part."
Toplis said it was now a 50:50 call whether the Reserve Bank would raise the OCR in December or earlier.
Rise in job ads a healthy sign
A rising level of job advertisements points to further falls in the unemployment rate, ANZ says.
The bank's economists monitor job ads both in newspapers and online as an indicator of the state of the labour market.
Although the level of job ads in newspapers remains low by historical standards, it has risen 37 per cent since the start of the year,
For the past three months more jobs have been advertised in Christchurch than in Auckland and Wellington combined.
ANZ chief economist Cameron Bagrie attributes that partly to people leaving Christchurch altogether, partly to a relocation of jobs in retailing and hospitality from the devastated centre to other parts of the city, and partly to repairs and refitting work for the building trades.
When combined with other labour market indicators from the National Bank's monthly business sentiment survey and numbers on the unemployment benefit, the rise in job ads pointed to a gradually falling unemployment rate, Bagrie said. It is 6.6 per cent now.