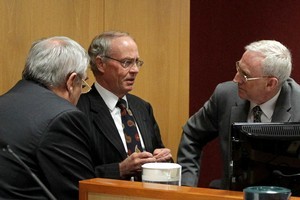 A second exit from the Pike River coal mine was planned for five years but never constructed, a Royal Commission of Inquiry into the West Coast tragedy was told this afternoon.
Department of Conservation witness Craig Jones told the inquiry Pike River Coal (PRC) had put construction of a second egress in its first work plan in 2005.
However, it did not seek consent for the exit until 2009, when it planned to begin developing a roadway to the north west of the mine, he said.
The exit was still not constructed when the mine was hit by the first of a series of deadly explosions in November last year.
Mr Jones said operations at Pike River went "very slowly" throughout the mine's development.
He said operations on its work plans were often deferred.
"It was very common that what was meant to be achieved in the next year was not achieved."
In its 2005/06 work report, PRC said the its mine ventilation shaft was not suitable as a second exit as it was at least 100 metres vertical, Mr Jones said.
But that wording was later changed to say the shaft was not suitable as a permanent egress, he said.
He told the inquiry he had never discussed whether the ventilation shaft was a suitable second egress with Pike River Coal.
The inquiry has now adjourned for the day and will resume at 11:30am on Monday.
Open cast ruled out
Earlier the company revealed it had ruled out setting up an open cast mine at Pike River because of economic and environmental concerns.
West Coast Regional Council (WCRC) consents and compliance manager Colin Dall was asked if PRC had discussed with the council the option of setting up an open cast mine at Pike River.
Mr Dall replied: "An option for an open cast mine was basically ruled out [by the company] from the onset...because of economic viability and the impact of an open cast mine on the ecological values of the area."
Some experts have previously told the inquiry into the deaths of 29 miners and contractors that open cast coal mining at Pike River would have been safer.
Mr Dall also said workplace health and safety was not considered when consents were given for the mine.
That was the responsibility of the Department of Labour, he said.
The council did, however, look in to how mining companies mitigate fire risks, as some mines were still on burning on the West Coast, including one that had been on fire for about 80 years.
Yesterday, Ministry of Economic Development (MED) senior geologist Alan Sherwood, went through how permits to mine were issued with reference to Pike River.
A greater level of detail was required when applying for permits now compared to when PRC was granted its resource permit in 1997, Mr Sherwood said.
He said he would have probably asked for more information from PRC had they made the application now.
The hearing is continuing.
- NZPA