Follow live coverage from day two of the Royal Commission into the deaths of 29 miners at the Pike River mine.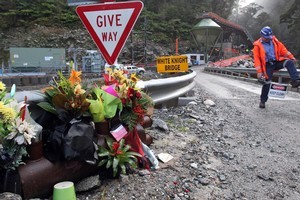 4:51pm:Dr Newman says she was contacted by a former student who worked for Pike River Coal in 2006. She says he had discovered previously unknown complexities in the geology at the mine and wanted her help exploring them. Subsequent drilling uncovered evidence of sediment in the coal seam at the mine, she says. She recommended a two phase geological investigation, but the second part was not completed by the company. That led to her distancing herself from the company in 2009. She says she could not keep endorsing an approach to geology she considers "inadequate".
4:34pm:Dr Newman is a geologist with more than 31 years experience in the Pike River area. She says she will give an insight into the geological complications that affected the Pike River mine.
4:27pm:Dr Elder has been excused after more than a working day in the witness box. Jane Newman, director of Newman Energy Research, is next to be called as a witness.
4:24pm:Commissioner Stewart Bell is questioning Dr Elder on several safety incidents in Solid Energy mines in the last eight weeks. He says two "cable flashes" in May and June must have been a cause for concern for the company. Dr Elder says they were, and steps were being taken to investigate the incidents.
4:08pm:The projected extraction of 7.2 metres of material for every shift worked at the Pike River mine was "hugely aspirational", Dr Elder says. He says Solid Energy may never have extracted that much in a single shift in any of its mines.
4:05pm:The inquiry has resumed.
3.44pm:The inquiry has adjourned for 15 minutes.
3.39pm:Dr Elder says the forecast production of the Pike River mine was unrealistic and unfeasible. He points to a report by mining consultancy BDA which said Pike River mine was expected to produce three times more coal than the Strongman 2 mine before it closed and 50 per cent more than the Spring Creek mine.
3.30pm:A company-wide "no blame" culture stopped Solid Energy from defending charges brought against it under health and safety legislation, Dr Elder says. Dr Elder yesterday admitted Solid Energy had plead guilty to three safety breaches at its mines during his tenure, under questioning from counsel acting for Pike directors, officers and managers. He has explained that decision was made because the company did not want to point the finger at specific employees in court.
3.16pm:Dr Elder says the death of three of his company's workers in an underground coal mine more than a decade ago shows the dangers inherent in West Coast mining. One worker was killed at the Mt Davy mine near Greymouth in 1998 when he was crushed by rock. Another two were asphyxiated in coal dust and gas released when they unexpectedly drilled through a thin seam of coal. The incident showed Solid Energy the risks inherent in operating a mine in a new environment using different mining methods, Dr Elder says. "It changed the awareness of everybody in the company."
2.58pm:Gas buildup can go undetected in an underground coal mine even if workers are carrying a handheld monitoring device, Dr Elder says. He says gas can build up in high areas of a mine and those need gas sensors placed in them. However, the best way of addressing gas buildup is prevention rather than detection, he says. "Gas monitoring is confirming or giving you information about something that is already in existence."
2.32pm:Developing a ventilation system in an underground coal mine is difficult and complex, Dr Elder says. The hydraulic mining method used at Pike River poses extra ventilation risks and challenges he says.
2.13pm:The inquiry has now resumed, with Solid Energy chief executive Don Elder still in the witness box.
1.12pm:The inquiry has now adjourned for lunch. It will resume after 2pm.
1.11pm:The type of mining used at the Pike River coal mine carries extra risks, Dr Elder says. Coal extraction in hydraulic mining involves collecting large quantities of material at once, leaving the danger of uncontrolled and sudden gas releases, he says. "When that roof collapses you're now freeing up any and all of the gas that was available in what coal remained... to be expelled out into the space." The method also posed more risks than the standard practice of continuous mining because it is not widely practiced internationally, he says. "There is not a widespread body of expertise on it."
12.55pm:Dr Elder is explaining Solid Energy's approach to health and safety in its underground coal mines. He says employees are encouraged to log incident reports whenever they spot a hazard with any potential to cause harm. The company then compiles those reports and works to identify repeat incidents, he says.
12.27pm:Dr Elder says Solid Energy's Spring Creek underground coal mine on the West Coast is still compromised by a lack of geological investigation in its development stages. In 1999, the mine had 115 boreholes at an average spacing of 300 metres. That was not enough and still causes health and safety problems today, Dr Elder says. "We are unable to mine as productively and economically as we would like because the health and safety risks that we're addressing require us to compromise production and the economics of the mine." Dr Elder earlier accused Pike River Coal of inadequate investigation into the geology of its mine. He claimed it had drilled boreholes at an average spacing of 500 metres.
12.13pm:The inquiry has now resumed, with Royal Commission counsel James Wilding questioning Dr Elder on whether the Pike River coal mine could have been open cast. Dr Elder says the mine would not have been economically viable as an open cast mine. Coal prices during the Pike River mine development from 2000 to 2005 would have made it impossible to make a profit, he says.

11.55am:The Royal Commission on the Pike River tragedy has now adjourned for a 15 minute break.
11.40am: Mr Hampton has listed safety hazards that have arisen in Solid Energy coal mines in the last three months. Among the incidents were high voltage cable "flashes" and a vehicle fire inside a mine tunnel. He has asked Dr Elder to confirm that in many cases the New Zealand mines inspectorate either delayed investigations or did not investigate at all. Dr Elder says Solid Energy notifies any serious safety hazard to the mining inspectorate. It is the company's primary responsibility to ensure safety in its mines and internal investigations had been launched into all the incidents, he says.
11.18am: Dr Elder is now under cross-examination by Engineering, Printing and Manufacturing Union counsel Nigel Hampton QC. He says the Solid Energy Spring Creek and Huntly East underground coal mines both have two or more exits. Employees are involved in developing Solid Energy's health and safety proceedures and identifying potential mine hazards, he says.
11.13am: Ms Shortall has accused Dr Elder of trying to talk down the value of Pike River to improve Solid Energy's chances of buying the mine. She pointed to his statements yesterday that the economics of West Coast coal mining were marginal and that Pike River Coal had overestimated the financial windfall it would receive from the mine. Those statements are one way to "lower the price" of Pike River's assets, she says. Dr Elder strongly denied any implication he was trying to diminish the value of the Pike River mine because of a vested interest. "Twenty nine people are dead. There are 29 people who didn't come back from the mine. That's 29 very good reasons to present my evidence if it can assist the commission to find the right answer." Solid Energy has expressed interest in making a bid for the Pike River mine. But Dr Elder refuses to confirm the company is part of the current tender process.
11.05am: Lawyer for Pike River directors, officers and managers Stacey Shortall has accused Dr Elder of not considering expert reports assessing geological investigation and risk levels at the Pike River mine. The reports by mining consultancies including Golder, BDA and RDCL backed Pike River Coal's mining and development operations. Dr Elder says he did know of the contents of the reports but not the names of the consultancies. He says he disagreed with information in the reports and is sticking to his statement that Pike River Coal had done insufficient geological investigation. "I can still find very clear statements in here that are fundamentally incorrect."
10.22am: Dr Elder has been asked to read a passage from a Pike River Coal prospectus containing an independent report by mining consultancy BDA. It said the risk level at the mine was at a low to medium level. Dr Elder says he does not accept that statement and believes those preparing the report did not have a full understanding of the West Coast geological environment.
10am: The second day of the Royal Commission on the Pike River Coal Mine Tragedy has begun. Solid Energy chief executive Don Elder has taken the stand to continue his cross-examination by Pike River Coal's legal team.