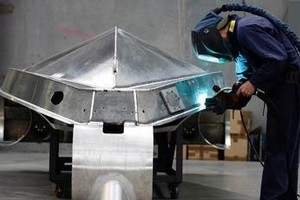 Business confidence climbed in the New Zealand Institute of Economic Research's June survey, reinforcing the case that a robust recovery is under way but also that inflationary clouds are gathering on the horizon.
The quarterly survey of business opinion found a net 27 per cent of respondents expecting the general business situation to improve over the next six months, where a net 27 per cent expected conditions to deteriorate three months ago.
When seasonally adjusted the rebound was also very sharp, from a net 11 per cent negative in March to a net 31 per cent positive in the latest survey - the strongest result since March last year.
Firms' views of their own prospects improved, with the own-trading activity indicator flipping from 5 per cent contracting to 4 per cent expanding.
Canterbury, especially its manufacturers and builders, drove that rebound, from a low post-quake base, but the rest of New Zealand also improved modestly, the institute said.
"But we are yet to see the catalyst that transforms this confidence into hiring and investment," NZIER chief executive Jean-Pierre de Raad said.
"Demand is still the biggest constraint on businesses and [profit] margins are tight. Continued deleveraging, slowing activity in Australia and a high exchange rate provide headwinds for economic growth."
Firms' hiring intentions rose but stand in contrast to firms on balance reporting they had reduced staff numbers and overtime over the past three months.
Intentions to invest in plant and machinery rose, but ANZ economist Sharon Zollner said they remained low for this point of the cycle. Capacity utilisation - a measure of spare capacity among manufacturing and construction firms - eased in the latest quarter.
"That was a bit of a surprise," Zollner said. "There are clearly bottlenecks coming in the economy, especially around the Canterbury rebuild. But it possibly buys the Reserve Bank a bit of time."
Other inflation indicators were more problematic. A net 31 per cent of firms are looking to raise prices over the next three months, up from a net 14 per cent in the March survey.
Firms have been reporting increasing difficulty in finding skilled labour for a year and that indicator is back at its long-run average levels, even though economic output remains well below trend.
"New Zealand has a structural shortage of skilled labour because emigration is so easy, especially to Australia, and our wage level is lower. That is just something we have to live with as a nation and it is going to constrain growth, as it has in the past," Zollner said.
BNZ economist Craig Ebert cited other indicators also pointing to a tighter labour market and wage pressures down the track - rising job advertisements and the net migration flow having turned negative over the past three months.
While business sentiment surveys had heralded a false dawn early last year, there were more reasons to believe them this time, Ebert said.
The terms of trade - export prices relative to import prices - is at a 37-year high, boosting national income. The global economy is still moving forward. There is Christchurch to rebuild and, for good measure, the Rugby World Cup.
The concern related to how much growth the economy could handle before inflation became a problem, he said.
Manufacturing and construction are the best performing sectors followed by retailing, while services, specially financial services, bring up the rear. The survey does not include the agricultural sector, which is enjoying good times.
"But that probably just offsets what is happening in the public sector," Ebert said.