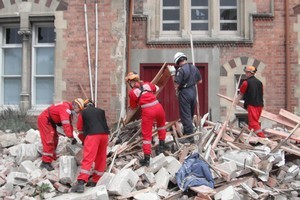 Yesterday afternoon's 6.5 shake would have tested the limits of New Zealand's network infrastructure if it had been shallower and closer to a city or town.
At 150km deep and 30km west of Taupo, the damage from the latest big earthquake to hit New Zealand was minimal.
But it is a pointed reminder that this country sits squarely on a very active seismic zone.
This fact makes it difficult to understand why the Government's latest national infrastructure plan does not more strongly emphasise the need to make sure New Zealand's networked infrastructures, and public buildings such as schools and hospitals, can sustain much of the impact of a major earthquake.
The $5.5 billion committed to rebuild Canterbury has had such an overwhelming impact on the Government's accounts that it would surely make sense to issue an urgent direction to all New Zealand local authorities and infrastructure providers to not only make it a priority to run the ruler over their own "lifeline" infrastructures, but to issue upgrade orders.
The Government will, after all, be "tailend Charlie" when it comes to stumping up the funds to repair local water mains and sewers if the local authority's insurance cover is not sufficient to cover quake damage.
But that cost could be reduced if the authorities upgrade outdated infrastructures.
Infrastructure Minister Bill English has indicated that local authorities are looking at their own lifelines. But lethargy soon sets in.
You only have to look at the Wellington City Council's own stock of "at risk" buildings and the lengthy time owners were given to get them up to standard to appreciate that real progress will be slow unless the Government cracks the whip.
English, who is also Finance Minister, stressed yesterday that the Government would spend more to bring schools up to scratch. A national survey of all New Zealand schools would be a start.
Neither does the plan have anything in detail to say about Mayor Len Brown's strategic priorities to build three major transport projects in Auckland: the CBD rail loop, a third harbour crossing and a CBD-airport link.
Yet quake-ravaged Canterbury and Auckland are clearly the two major infrastructural challenges facing New Zealand.
What we do get instead is an insight into the Government's strategic thinking.
In Auckland's case, Transport Minister Steven Joyce met Brown last week. English wants any discussions on just who picks up the tab for Brown's gold-plated projects to be a "rational" one. It is clear Brown will have to make a decision about the sequencing of the three projects.
The Government's clear signal that it wants a debate on "demand pricing" has already got Aucklanders talking about whether they should pay tolls to help underwrite future transport projects.
This is well overdue.
The plan also says the earthquake does raise questions about infrastructure and building standards across the country. Particularly, whether structures built before the current standards need reassessment and strengthening.
It indicates that within the next three years, the lessons from the Christchurch quakes will be taken on board to significantly enhance the resilience of New Zealand's infrastructure network. It suggests this could run the gamut from developing improved seismic design standards, reviewing organisation culture to improve performance in emergencies, to identifying ways to quickly return services to full operational capacity.
But the question of whether New Zealand's building codes and standards do, in fact, provide reasonable protection for New Zealanders caught in a large earthquake has been kicked into touch until after the Royal Commission on the Canterbury Earthquake reports.
That's probably fair enough, given all the complex factors that the commissioners will have to weigh. Last year's September 4 earthquake introduced New Zealanders to the concept of lateral spread and liquefaction. But it was the February 22 earthquake this year which did the real damage.
In the mid-1990s, Canterbury set up a multi-disciplinary approach to mitigate the vulnerability of lifelines to natural hazards. These lifeline utilities include the electricity networks, telecommunications, broadcasting, petroleum distributors, gas suppliers, water supply, wastewater, storm water and transportation.
It was just as well, because by 7am on September 4 the lifelines group had reports of significant damage to infrastructure including the results of liquefaction, lateral spreading, bridges that were unsafe and roads that were impassable. As well there were widespread power outages, burst water mains and flooding streets.
Christchurch international airport was evacuated and closed, buses put off the road, rail services stopped and possible gas leaks were reported.
The multi-disciplinary approach was tested again when the February 22 earthquake happened. But what about elsewhere?
A major movement on the Wellington Fault - which does happen every 100 years or so - is likely to result in an earthquake measuring about 7.5 with surface rupture of over 50km. Compare this with the September 4 Darfield quake which caused a 29km rupture that was mainly across rural Canterbury land.
In a report on the Canterbury quake's relevance to the capital, Wellington's Civil Defence emergency management group said a shake of a similar magnitude would likely result in fatalities and significantly more injuries given the city's more than 700 suspect multi-level buildings.
International assistance would be required for the search and rescue operation after the collapse of tunnels and bridges and landslides, and vital infrastructure would be severely damaged.
"Based on probability and geo-technicality, this Canterbury quake could have been Wellington's quake," wrote a spokesman who helped out after the September 4 quake. "It wasn't. But it touched the hearts and minds of Wellingtonians more powerfully than most non-Cantabrians.
"It was humbling to make a small contribution to what is a massive event, the effects of which will be felt for many years. The psychological impacts will be more significant than a few big cracks in the ground, disrupted aquifers or demolished heritage buildings."
With all these likely impacts, surely it would make sense to make sure the city's lifelines are as robust as possible? The problem is, if the Government doesn't leverage the Canterbury quakes to force local authorities to lift their game, who will?