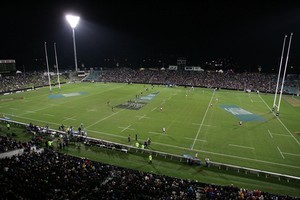 Electricity planners will double the amount of stand-by power generation available to cope with surges in demand during crucial Rugby World Cup games but say they can't guarantee the lights won't go out.
Transpower is also stepping up security around substations to try to prevent terrorism or vandalism and, like other utility companies, it will halt all non-essential maintenance during the six-week tournament to minimise the risk of workers accidentally cutting power.
In Auckland, lines company Vector has for the past two years been working on a plan to minimise the risk of network problems but has seven emergency generators on hand if there are cuts.
The 1998 cable failure to Auckland's central business district was an international embarrassment and rugby fans were reminded of the fragility of supply during a 30-minute blackout during a super rugby game at North Harbour Stadium two years ago.
In spite of years of planning for the cup, power chiefs say they can give no assurance of supply during the tournament.
Anything from cars hitting poles to balloons and streamers on lines, to a less likely asteroid strike could disrupt networks.
Transpower's general manager of system operations Kieran Devine said there was no absolute guarantee.
"The thing is to minimise the risk to make sure we get it right on the day," Devine said.
Any work that would affect the security of supply would effectively be done before the September 9 kick-off or deferred until after the tournament.
"We're going hammer and tongs at the moment to get it done before the winter peak or to get it out of the way before the winter peak.
There would be no work in areas where there were games unless it was an emergency.
Transpower staff and contractors would be on standby during games or on half-hour call.
Devine said the capacity of "float" power stations in each island would be doubled to take up the slack if demand spiked unexpectedly during finals games.
The finals were being played on weekend nights when there was little commercial demand. However, at halftime during the biggest rugby games demand climbed by a few per cent as fans switched on kettles, turned on lights in other parts of their homes and fridge doors were opened, causing motors to come on, as they reached for a cold drink.
"At half-time everybody around the country does the same thing," he said.
The additional 100MW of "float" generation in each island would come from hydro stations.
Devine said Transpower had discussed extra security with police.
"Fundamentally the transmission lines are undefendable, there's 12,000km of them, we deal with that by having more in service than we need," he said.
"You're not going to see security guards running around the place but there is heightened security in place."
Vector's chief executive Simon Mackenzie said there had been a citywide check of switchgear - that shifts load from damaged lines - and the company was as prepared as it could be.
From early next month it will stop new work near key venues, transport routes and where teams are staying or practising.