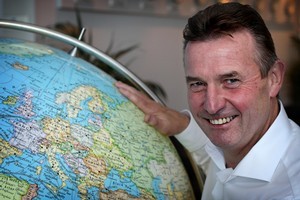 Mainfreight boss Don Braid got a $373,000 pay rise in the firm's last financial year - thanks to the reinstatement of performance bonuses that were frozen during the global financial crisis.
The 51-year-old managing director received a remuneration package worth $1.24 million in the 12 months to March 2011, compared with $870,000 in the previous period, according to the listed transport operator's latest annual report.
Mainfreight chief financial officer Tim Williams said the dip in Braid's pay - which dropped from $1.14 million in 2009 to $870,000 in 2010 - was the result of a freeze on all employee bonuses.
"Everybody had their bonuses stopped for a 12 to 18-month period when we went through the GFC [global financial crisis]," he said. "We decided that we wanted to put a line in the sand ... and make sure the business was secure."
New Zealand Shareholders' Association corporate liaison Des Hunt said that as long as Braid's base pay had not increased, his remuneration in the year to March sounded reasonable.
"They've had a very good year, with the acquisition [of Holland's Wim Bosman Group] and everything. If the increase is based on performance then I think it's fair."
Williams said Mainfreight did not release detailed breakdowns of executive salaries.
Braid's $1.24 million pay package included performance bonuses, vehicle and other non-cash remuneration, but not share-based payments, the annual report said.
Mainfreight claims in its annual report to have been the best-performing NZX-listed company for the past 15 years.
Group earnings before interest, taxation, depreciation and amortisation (ebitda) climbed from $64 million to $91.6 million between 2007 and 2011, the report said, while revenue increased from $758 million to $1.34 billion over the same period.
Mainfreight reported a profit before non-recurring expenses of $47.2 million for its last full year.
Average annual shareholder returns since its 1996 listing were 26.4 per cent, the report said.
The company announced in March an agreement to buy the Wim Bosman Group - one of the largest privately owned transport and logistics companies in the Netherlands and Belgium - for up to $227 million.
The company has been expanding globally for more than 20 years, entering the Australian market in 1989, North America in 1999, Asia in 2000 and Europe this year.
Mainfreight established three new branches in Asia in the year to March 2011, in the eastern Chinese cities of Xiamen and Tianjin, and Singapore.
Another branch in Qingdao, in China's northeast, was set to open last month, according to the annual report. Mainfreight said it viewed the development of the business in China as a "marathon, not a sprint".
Mainfreight shares have surged from below $3.50 in early 2009 to $10.40 late last month, and closed up 4c at $10.19 last night.