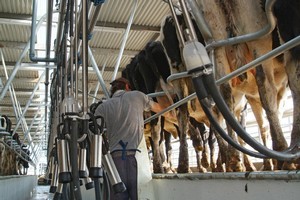 A group of activist shareholders has won out against Olam International, after the Singaporean food group failed to acquire the 90 per cent stake it needs in the South American dairy operator to trigger compulsory acquisition of the remaining shares.
At the close of its offer period, on June 29, Olam's second takeover offer for the company left it with an 85.93 per cent controlling stake stake, having added just 7.6 per cent of Farming Systems shares through the second offer and purchase of an additional 0.35 per cent bought on the open market.
That's short of the 90 per cent needed to trigger an automatic buyout of minority shareholders under the Takeovers Code rules.
The announcement comes after a group of New Zealand-based small shareholders in Farming Systems last month lobbied investors to turn down the 70 cents a share offer, saying it was too low with net asset value closer to 85 cents per share.
That, they said, was justified by increasing land prices in Uruguay, the high level of milk prices and the way the NZFSU business is being managed.
The stance was at odds with an independent report by adviser Grant Samuel, which found the 70 cents a share offer was above its 60 cents-to- 69 cents valuation range.
The higher valuation was lent credence this week after Farming Systems flagged that it may return to profit earlier than forecast on higher-than-expected milk prices.
The company expects to post a net profit of US$2.9 million in the 2012 financial year, having previously signalled it would make a loss of US$1.9 million.
Earnings before interest tax are forecast at US$8.9 million, up from US$3.3 million. Farming Systems shares were unchanged yesterday at 70 cents, and have gained 12.9 per cent so far this year.