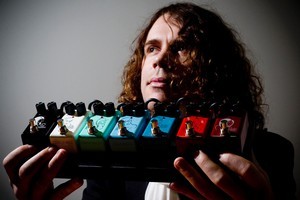 Ben Fulton, the chief executive of Red Witch Analog Pedals, looks like your normal laid-back musician.
But he is a businessman who is well on the way to building an international operation and is working toward a $5 million turnover.
His company specialises in making analogue guitar effect pedals and has won fans around the world from U2's The Edge to The Police's Andy Summers. "I'm a novelty, this long-haired Kiwi guy," says Fulton.
The guitarist, who worked as a professional musician for eight years, launched the business in 2002 to try to help people who had been unable to get the sound they were searching for.
"I spent six months immersing myself with the theory and design of the products," he says.
The company has been international from the start and 50 per cent of Fulton's business is now in the United States.
"Right from day one, just me in a shed, the focus was America," says the chief executive, whose warehouse and office-workshop is on Wellington's Kapiti Coast.
After the hard graft of the first six years, Fulton took on some help. Geoff Matthews, director of Brandcom, and his business partner, Trevor Nicolson, took a stake of just under 50 per cent in Red Witch with their company Viva La Vida.
Fulton welcomes the interest from Matthews. "It's great for us. Our expertise is really on the design and aesthetics of the product. Geoff does the strategic planning, guiding the business growth and also the branding."
Red Witch has had another boost this year. In January, one of America's leading music distribution companies, Hanser Music Group, took on the distribution of Red Witch in America.
"They are very enthusiastic about becoming more hands-on with the company," says Fulton.
The entrepreneur is relaxed about others taking sizeable stakes in his company.
"There's no point in owning 100 per cent of a company that is worth nothing. I'd rather own 20 or 30 per cent," he says.
You can't expect to have the involvement of skilled people who immerse themselves in making the business grow, unless you give them something, he adds. The firm has a part-time chief financial officer and a governance board. David Jones, of Auckland law firm Jones Young, and chairman of the Takeovers Panel, was invited to chair Red Witch.
"He's been fantastic. David keeps us on the straight and narrow and provides a very objective perspective," says Fulton.
Next month Red Witch launches the Seven Sisters range, which the company says are the world's first lithium ion cell pedals.
They are rechargeable and smaller than other pedals.
The neat size of the units is useful for touring musicians and they are competitively priced, retailing at US$129 ($159) a unit.
"Seven Sisters is going to be a game-changer," says Fulton. The first 4900 units are all pre-sold.
Fulton designs the pedals in New Zealand but they are produced by a Taiwanese audio manufacturer.
The artwork for Seven Sisters has been done by Rachel Gannaway and Ann Adams, the graphic designer.
Fulton still plays lead guitar for a variety of bands when called on. "A vital part is for me to remain an active player," he says.
"The next two years of products are quietly stored away in my brain," he says.