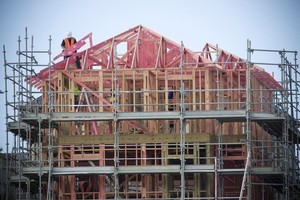 The newly established Productivity Commission is seeking public input into its first inquiry, which is into housing affordability.
An issues paper released yesterday outlines the approach it intends to take and the key questions as it sees them.
A draft report including policy recommendations will be released in October for a further round of submissions and public engagement before the commission delivers its final view to the Government next February.
Commission chairman Murray Sherwin said concern that the steep rise in real house prices in the last decade had reduced affordability had prompted the Government to ask the commission to evaluate the factors influencing affordability and to find ways to improve it.
The inquiry encompasses both owner-occupied and rental housing and both up-front and ongoing costs. It will look at issues such as land supply, construction and infrastructure costs, regulations and taxes.
"I am really keen for us to have a look at the productivity track in the home construction sector," Sherwin said.
"The evidence we have seen so far makes it look like it's been a standout low performer in terms of productivity performance. So why is that and what could you do about it?
"And likewise the whole issue of availability of land and responsiveness of land supply for housing. Where do you draw the line between intensification versus spread and where in there do people's housing preferences fit?"
The issues paper describes productivity in the building sector as low relative to other countries and other sectors of the New Zealand economy and says its labour productivity has been flat over time.
It says the cost of building a new house has generally increased in line with house prices over the past 10 years.
The cost of labour and builders' margins have almost doubled, the cost of sections has more than doubled and the cost of building materials increased by around 50 per cent.
It wants to know if these costs are higher than they need to be.
And what the impact of the rebuilding of Christchurch will be on skill shortages in the construction industry nationally.
These are among the 87 questions posed by the issues paper, on which the commission seeks submissions.
Housing affordability is not the only inquiry on its plate. It is also looking into international freight and transport services and will release an issues paper for that inquiry next month.