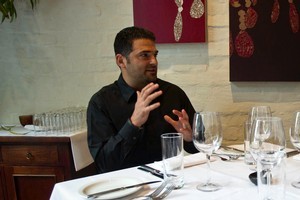 Auckland's top restaurateur has warned that service in city dining spots needs to shape up for the Rugby World Cup because "a marble bar and beautiful champagne" can still leave a poor dining experience.
Michael Dearth, owner of The Grove inner-city restaurant, said Auckland diners needed better service more than a spectacular view.
"Just because you've got a beautiful million-dollar restaurant on the waterfront doesn't make it enough.
"You can have a beautiful marble bar and beautiful champagne and it can still be [awful]," said Mr Dearth, whose restaurant was judged by Metro magazine as the city's best.
Good service included being proud of the whole city and recommending other establishments and things to do, he said.
"Restaurateurs shouldn't isolate themselves ... You should be able to say, 'Hey, we're not the only restaurant', and recommend a great Thai or Chinese [place].
That's the level of service that's different.
"Take pride in what you do and let go of the ego."
The greatest improvement that could be made was to have well-trained staff, Mr Dearth said.
"I get worried about the cup. I think we need to look further when it comes to training staff.
"It's wonderful that the cup is coming, but to me, we [need to] foster that mentality and culture."
Mr Dearth also warned against restaurants trying to make a "quick buck" from the visitor influx.
"The majority are going to be Australians. These are the people who are going to come back often for business."
But he said the quality of produce, seafood and other ingredients in Auckland was unmatched anywhere in the world, and the city's top restaurants were world-class.
Restaurant Association national president Mike Egan said cup visitors would be more interested in rugby than the quality of restaurants.
"They're not really here to do the grand tour of restaurants ... People will be eating and drinking at all levels of restaurants. I don't think they'll be judging us on world standards."
But Mr Egan said he could understand the point Mr Dearth was making about the level of service in New Zealand, which was undoubtedly different from that in countries where tipping restaurant staff was part of dining out.
"One of the problems is that without tipping, we don't really attract professionals in a big enough number.
"It's only the upper-end restaurant where you get the tips and which can afford the really good staff."
However, he said he thought overseas visitors would appreciate the genuineness of New Zealand wait staff.
Metro restaurant judge Rebecca Jones said Auckland dining had suffered from "cafe-isation", in which the focus shifted away from proper attention to detail and staff training.
There was much more to a good dining experience than just getting food on the table, she said.
"At the end of the day, a good restaurant is already ready.
"But there are a lot of restaurants that perhaps don't have good staff - not the top 50 restaurants, but representative of the vast majority of restaurants in Auckland."