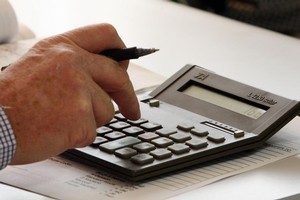 The breadth of calculations available is astounding. There's nothing like cold, hard numbers to quash financial delusions. Or to confirm your worst fears.
I'm forever scouring the internet looking for useful calculators that assist with good money management. These are the number-crunching internet applications, which tell you exactly what your vices cost you or how much you really need to save.
Some can be very in-your-face indeed and they're an awful lot better than mental accounting, which often conveniently forgets to add in important expenses.
Spending calculators really turn delusions into cold hard numbers. I like Sorted's Spendometer, which takes into account the amount of interest and charges when buying goods on finance.
There are other spending calculators, such as Thisismoney.co.uk's Pleasures v Treasures calculator, which show how much giving up a vice will translate into savings.
Another one from the same website for converting discretionary expenses into retirement savings is the Your Smoking Habit calculator. If you've smoked 10 cigarettes a day from age 18 to age 40, the total cost is $125,195. It goes on to tell you how much you could have saved to date, the cost this year and the cost over your life until age 67, the age it assumes you will die.
Mortgage-related calculators are very useful. Sorted.org.nz has a mortgage repayment calculator as well as other mortgage calculators, which allow you to juggle the variables of your mortgage to see how you can save money - or afford a bigger house.
One local calculator I use regularly is the Reserve Bank of New Zealand's inflation calculator because it records actual historical inflation in this country. It can be useful for deciding if you should increase regular savings. If, for example, you'd been saving $100 a month in 2000, the calculator would show you that you should now be saving $135.98.
Another use of it, as Jeff Matthews, senior financial adviser at Spicers Wealth Management, said this week, is ensuring that any gifts of money you gave to others over a number of years were of equivalent worth.
One of my favourite sources of calculators is CalcXML.com, which offers dozens of really useful personal finance calculators, such as Should I convert (my mortgage) to a bi-weekly payment schedule?, Save now v save later, Should I lease or purchase a (car)?, and What is the dividend yield on a stock?
Similarly, the Fool.com website has How much will it cost to raise a child?, Am I better off renting?, and Should I use a home equity loan or an auto loan?, which is especially interesting for anyone tempted to use their mortgage to finance a car buy.
Some of these overseas calculators aren't relevant in a New Zealand context.
They may have local tax rates built in or assume that you're invested in a local pension funded from pre-tax income.
Many of them, however, know no international boundaries. British calculators may use the £ sign, but there's no need to do any currency conversions.
Just enter an amount in the calculator and pretend it's a dollar sign. American calculators will often have boxes for state and federal tax. It's a matter of entering zero into one of them and then putting your New Zealand marginal tax rate in the other.
The breadth of calculations available is astounding. If you've been feeling grumpy at work lately, Thisismoney.co.uk's Unpaid overtime calculator tells you if "your boss [is] taking you for a ride".
If, for example, you earn $60,000 and do on average 55 minutes overtime a day, you should be earning $66,875 a year. That's really telling stuff. Worksmart.org.nz has a similar calculator, which works out how many days of unpaid work you're doing a year.
Thisismoney.co.uk's trail commission calculator allows you to make sense of how charges can eat into an investment and allows you to compare two investments. It's a reasonably basic calculator because it assumes the investments are growing by 7 per cent a year and the figures are before tax.
The site's Childcare conundrum calculator is an interesting one for working parents or those intending returning to work. Sometimes it's simply not worth paying for childcare.
Entering fairly realistic figures for someone on $60,000 travelling to work by public transport using a monthly Maxx Discovery Pass, employing a cleaner, buying lunches and paying $200 a week in childcare costs, the result was earnings reduced from $4050 net a month to $322.67.
The only problem is that this calculator doesn't take into account the fact that you might move up the salary scale over time by returning to work rather than staying at home.
If you're heading overseas soon it's worth using a foreign currency calculator such as that on XE.com. Don't forget that every which way you turn your travel money will be loaded with sometimes difficult to fathom fees and handling charges, and minimum charges.
Using a travel money charges calculator such as the one on Thisismoney.co.uk you can find out exactly how much foreign cash you get after all those sneaky charges. XE.com also has a useful calculator at http://www.xe.com/tec/table.shtml for those of you who need to claim back foreign expenses from work trips to ensure you get the hidden charges back - although you could wait for your credit card bill to come through.
Sadly, many online calculators don't tell the full story. My number one complaint is that they fail to factor in tax and inflation - especially if they're on a bank or financial institution's website. It's a classic ruse of salespeople attempting to sell a savings or investment product. They'll show you how your money grows almost exponentially, but somehow forget about tax and inflation.
Another problem is finding calculators with exactly the right combination of variables. A savings calculator may, for example, assume annual lump sums, whereas if you'd saved monthly and paid interest monthly on your savings, the outcome would be different.
One investment growth calculator that I use regularly is found at Dinkytown.net. It allows all sorts of variables such as the number of years of an investment, expected rate of return, inflation rate and tax rate.
I used this calculator to look at how a lump sum investment of $10,000 with annual investments of $5200 ($100 a week) would mount up at a 6 per cent rate of return. After 25 years, using the simple calculation, the total would be $345,332.
A truer picture would be to put an inflation rate of 3 per cent and tax of 30 per cent, which shrank the returns adjusted for inflation to $124,082. That's a huge difference.
This leads me to one area that isn't often discussed when it comes to saving for retirement: how long will my retirement savings last?
Dinkytown.net has a calculator for this, but has drawbacks as it doesn't include the tax you will pay on your income or New Zealand superannuation.
The CalcXML I Am Retired, How Long Will My Savings Last Calculator is better, but it's necessary to enter post-tax New Zealand Superannuation earnings in the "Social Security" income field.
I've yet to find the perfect "spend down" or "decumulation" calculator with sufficient variables.
Sorted's Managing your nest egg calculator will be useful for some people. It is realistic and accepts that some people will only want to spend the income off their investments.
A spreadsheet decumulation calculator, which can be downloaded from http://tinyurl.com/3d9jhgy, is Al's Simple Retirement Planning Model, but it requires a working knowledge of Excel and some tinkering to replace the US pension options with New Zealand Superannuation and KiwiSaver. Of course a financial planner can do all this for you.
Whatever subject I write about in this newspaper, invariably someone emails to say, "Why didn't you mention X, Y, or Z?". If you have a favourite calculator that I haven't mentioned, then please email me.
Or if you're having trouble finding any of the calculators, check back on the nzherald.co.nz website next week and the links will be included.