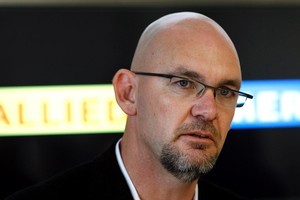 Rob Alloway, Allied Farmers' outspoken chief executive, won't be replaced when he leaves at the end of this month - and he says he's pleased to be going.
Garry Bluett, Allied's chairman, said in an NZX notice this week that Alloway was leaving because his contract ended on June 30.
Alloway said yesterday he had resigned as a director on April 28 and was glad his contract was ending because he was unhappy with the board.
"There's no love lost. I won't miss Allied Farmers," Alloway said yesterday.
Alloway is the outspoken critic of Hanover and United.
He led Allied in buying the financier's assets and spoke to hundreds of investors alongside Hanover's Mark Hotchin, persuading them of the merits of the Hanover/United deal.
Bluett said Allied management would now be split into rural and investments, each with its own boss.
Allied Farmers Investments is the division which holds the ex-Hanover and United property and loan assets, he said.
"The progress made by the executive team over the last 18 months in dealing with these assets is such that the board believes a fulltime chief executive is no longer required for this division.
"The company is in the process of appointing a third party to manage the assets on its behalf," Bluett said.
This would include using the consultancy services of ex-Bell Gully senior partner Graham McKenzie, he said.
A new fulltime chief executive would be appointed for Allied Farmers Rural and the board was well advanced in its search and expected to make a further announcement shortly, he said.
Gary Wong, chief financial officer, left Allied last Friday after his contract finished.
Alloway said he lived in Hamilton and could not say whether he would remain there or what he would do next.