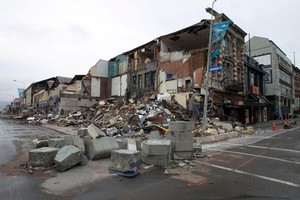 Prime Minister John Key admits some Christchurch businesses will struggle after the end of government subsidies to help them recover from the earthquake, but said it was time to halt the help.
The Employer Support Subsidy will end tomorrow after three months of wage subsidies for businesses affected by the quake. About 800 employers supporting 4000 workers were on the most recent scheme, which was extended by a further six weeks last month.
Mr Key said some businesses would struggle with the removal of the subsidies more than others. But the support package had so far cost about $200 million and was originally aimed at buying businesses time to adjust.
Labour's earthquake recovery spokesman Clayton Cosgrove said the scheme was the right thing to do for employers, but some businesses still needed more time, especially those from the red zone.
"Many have not yet been able to recover critical things they need to restart their business elsewhere."
He said if bosses were forced to lay workers off it would still cost the Government - in the unemployment benefit.
Social Development Minister Paula Bennett said about 8000 employers used the initial scheme in February and many had since said they no longer needed the subsidies. Unemployment had also risen by only 900 since the quake.
Mr Key also said the Earthquake Commission was also being encouraged to pay tradesmen for their work as quickly as possible after complaints about long waits.
There were a lot of small tradespeople working who could not necessarily absorb the increased costs such as wages while awaiting payment.
EQC had received 28,900 invoices so far and about 10,000 were yet to be paid.
He said there was pressure on the system and he wanted to see them paying as quickly as they can.