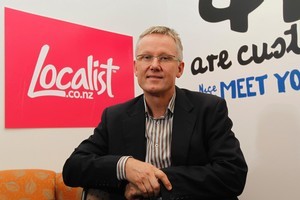 Sam Knowles made his name as the foundation chief executive for state-owned Kiwibank - a standout success in a market dominated by Australian banks.
He resigned last year after a decade at Kiwibank, marking the end of a foundation era for the bank whose popularity remains a thorn in the side for Australian competitors.
Clearly, founder Jim Anderton was right picking that there was a demand for an independent New Zealand bank but attributed its strength to Knowles' prolonged oversight
Now, as chairman of another state-owned business venture called the Localist, he's laying down another challenge using taxpayer money from New Zealand Post in what he says is an underperforming directories market.
"Ten years is a long time to be chief executive of any company," he says of his tenure at Kiwibank.
"You're inevitably going to be stale." The Localist is a new venture New Zealand Post is launching next month and will pit the state-owned start-up against the Yellow Pages and its directories monopoly, as well as community newspapers and other content aggregators.
The Localist will split the Auckland Super City into five regions with books and online directories that will allow people to drill down to local advertisers and services.
It will let users compare services and prices, dressed up with editorial content to take business away from community papers.
Knowles says these sectors have suffered through lack of investment. Overseas, localised directories had been very successful.
Where some might see two sunset industries, Knowles sees the dawn of a successful new business within the world's biggest growth industry - internet information.
The Localist starts in Auckland but he sees it expanding quickly to other cities. It's a very good business plan, he says - Knowles has put his reputation on the line.
"I championed the idea which got the go-ahead last July after all the normal rigors. It's fair to say that people took a little convincing," Knowles said.
"There are always sceptics at the start but we'll show that we've made the right call."
And if it doesn't work? What happens if Yellow Pages picks up its poor service and starts reinvestment in local markets that got killed off during its ownership collapse?
What happens if local markets aren't drawn to its books and it doesn't attract the listings that make it a must for people advertising local goods and services?
Knowles acknowledges there are risks. But he also knows that if the Localist doesn't work, losses won't be shouldered by individuals who have put their own cash on the line.
It will be written off as a line in New Zealand Post's annual result in the same way that TVNZ wrote off a $14 million investment in TiVo.
This is the business person's argument against state competition with the private sector - that the stakes are low for a government agency spending taxpayer dollars.
But he doesn't buy that argument - saying state ventures have a role investing where the private sector is not. When he took his job at Kiwibank, some of his former colleagues at the National Australia Bank - where he was marketing chief - saw him as something of a turncoat to the capitalist cause.
For some in New Zealand business, being CEO for a state-owned venture would be anathema.
But Knowles grew up in a home where co-operative based ventures were the norm.
His father was Bernie Knowles, regarded as a brilliant general of the New Zealand Dairy Board from 1975-1984 and credited with a big role in the development of the industry.
He would drive to appointments in Wellington with his car towing a concrete mixer for one of his local home business ventures.
"I quite like co-operative ownership," Knowles said. "It needs good solid governance. But there's no reason why ownership should have an impact on outcomes.
"I don't ever feel like I've left the private sector. Kiwibank was a private sector commercial organisation. The shareholders are taxpayers and that's no different from those who live in Melbourne."
He rejected a suggestion that state sector business leaders can walk away from a business failure more easily than a private investor.
It was true Governments weren't strong owners for getting the right level of performance. But partial privatisation of energy companies would solve some of those issues,
"What I do think is that there's a good case to take some ownership away from ministers and put them into more independent management - like the NZ Super Fund," he said.
"If you want good, strong New Zealand businesses, they have to be owned by someone committed to New Zealand and to being commercial." he said.
As for the Localist, he sees its energy as a start-up playing a role in overcoming under-investment by Yellow Pages.
"There's been too little investment because there has been no competition. Duopolies are happy to sit there and do nothing .
"Too few industries have three [or] four players to drive down prices. The effect is apparent with the arrival of 2 Degrees," he said.
Knowles made his name in banking initially working at the BNZ during its crash and burn, but was picked up by the BNZ's head of marketing for Australian parent NAB.
He returned to New Zealand for family reasons, taking up the chief executive role at Kiwibank, building it up in 10 years to have 700,000 customers, $7 billion in deposits and $10.5 billion in loans.
It's not clear whether an affection for New Zealand as homeland rubbed off on Knowles but he does have a deep-seated passion for the country.
Yet he says New Zealanders are not nationalistic in what they buy.
The early uptake for Kiwibank was among immigrants who wanted to belong.
New Zealanders were initially blase, though this reticence was due to the difficulties banks had imposed to make it difficult to leave.
Knowles remains based in Wellington for a venture that is very much focused on Auckland, but is clearly enjoying being in charge of another start-up.
Is there anything that frustrates him about the job?
"You get a bit annoyed it takes so long to engage with government. Nobody was thinking through what sort of structure New Zealand needs for efficient commerce and it always frustrates me over the lack of strategy talking about our commercial infrastructure."
It's a long road ahead for the Localist but: "The demand for internet information is the world's biggest growth area - and if you pick the right area with the right foundations, you'll succeed."
Sam Knowles
Role: Chairman New Zealand Post subsidiary the Localist.
Educated: Waikato University, physics, Canterbury University, resource management.
Family: Wife Charlotte, and three children aged 20, 17 and 13.