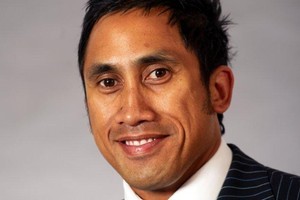 Name: Joseph Harawira
Role: ACC programme manager - sport
Age: 34
Salary: $70,000 plus, depending on skills and experience
Qualifications: Bachelor of exercise science and sport; completing executive masters in business administration
Describe your job
As programme manager for sport, my job is to reduce the burden of sport and recreation-related injuries in New Zealand. These injuries cost the ACC scheme around $400 million each year.
The key is identifying the highest injury risks - not just in terms of volume, but severity of injuries too - by understanding injury data and trends. Then it's a case of coming up with programmes that will lead to behaviour change and determining how feasible these are.
To be effective, it's important that a programme matches the needs of its target audience.
One approach we've taken is to emphasise the link between injury prevention and improved physical performance.
But it's not just players we target - we try to get the message to coaches, trainers, managers, parents and the wider community.
Your background?
I began my career in the NZ Army, where I served seven years as an infantry soldier.
I left the military to study exercise science and pursue a career in sport. I've always had a passion for sport, health and fitness. I gained experience as a personal trainer, fitness tester, sport medic and physiotherapy assistant.
I joined ACC as part of the graduates programme and started as a case manager. But six months into that role, the opportunity came up to move into the sport injury prevention area.
What does a typical day at work involve?
There is huge variety and scope in my role. One minute I might be overseeing a video shoot in a gym, or giving a presentation to coaches/players. The next I might be liaising with the various partner organisations we work with, such as the NZ Rugby Union and NZ Football, which deliver national injury prevention programmes. I engage with everyone from players and community groups to chief executives.
Who do you work with?
We work a lot with the sports you'd expect, such as rugby union, football, netball and rugby league. Some are winter sports, but it's a year-long task monitoring trends, evaluating the results of our programme and refining them for the upcoming season.
I also manage the physical activity portfolio which targets the everyday enthusiast who cycles, swims or jogs for fitness.
Our website, ActiveSmart, offers these people free advice, from nutrition and training programmes, to help with warm-up and cool-down exercises.
Typical questions you're asked?
"What are the injury stats for such and such a sport?" is a common one. But perhaps the most common, and the most humorous, are "Can you get me free tickets to that, Joe?" or "Have you got any free gear?"
Why is your job important?
If I can help keep as many people as possible engaged in the sports or physical activities they enjoy, then that leads to huge benefits - not just for those individuals but for communities and society. In the sports we're working with, injuries are going down and that gives me a huge buzz.
Most satisfying moments?
It's been great getting acknowledgement from people such as Graham Henry, who's right behind ACC's injury prevention programme for rugby players, called RugbySmart. Also, the level of international interest and recognition we receive regarding our programmes is huge and this has led to building a global knowledge base. But the biggest buzz is probably when I talk to people who tell me the work I've done has helped them get to a better place in their life. Just everyday people who've got off the couch or got back on track after injury, and are feeling better for it.
Best part of the job?
I love the fact the role has so much variety and is all about my passions, health and fitness. And I feel privileged to work in a field that offers crossover between sport science, business management and applied research - I get to mix the left and right brain activities.
The role also allows me to use my critical judgment to make decisions that can have national and international implications.
Where do you see this role taking you?
I started out thinking I'd be involved in sports at a hands-on level, such as a sports scientist. But once in the role, I realised I could work effectively at the executive level, too.
So my ultimate goal now is to one day be the chief executive of a high-profile sporting organisation.
Advice for someone interested in a similar role?
New Zealand's sporting community is relatively small, so just get out and get noticed. Start small, even if it's volunteering or helping out with coaching or administrative jobs. If you do good work, people will notice.
What's on the agenda this year?
I'm aiming to finish my MBA by July. Then, the Rugby World Cup is going to be my big highlight. I'm lucky to have been selected as a liaison for the Welsh rugby team - I'll be travelling around the country with them.