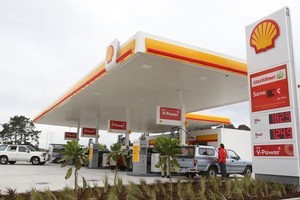 Shell says a dramatic drop in the price of crude oil has led to it dropping its price for petrol and diesel by 6 cents a litre from 7am this morning.
The new price for 91 octane petrol will be 215.9 cents, 222.9c for 95 octane and 157.9c for diesel.
BP also announced a short time ago it had dropped the cost of 91 octane to 215.9 cents, 95 octane to 223.9 cents per litre and ultimate diesel to 157.9 cents per litre.
BP Managing Director Mike McGuinness said a drop in the price of international crude oil had allowed BP to pass the saving onto customers at the pump.
"BP monitors both costs and the exchange rate daily and is committed to passing on any benefits of the both the higher dollar and lower product costs to motorists as quickly as possible.
"The international price of product has been increasing steadily for a while now, and we're as delighted as our customers will be to see this drop."
Pump prices in New Zealand are determined by the international price of refined petrol and diesel (purchased in US dollars), the US/NZ exchange rate, taxes and levies, international shipping costs and local operational costs.
Last week motorists were stung with record petrol prices as major suppliers increased the cost of 91 octane petrol by 3 cents to 221.9c a litre.
Oil companies blamed the price of refined oil rising faster than the exchange rate, prompted by demand in the United States and West Africa.
However, there was a dramatic drop in the price of crude on Friday, some of which had now flowed through to the refined product price, which ultimately drove the price at the pump, said Shell spokeswoman Sheena Thomas.
Other retailers are expected to follow suit.
- NZ HERALD ONLINE / NZPA