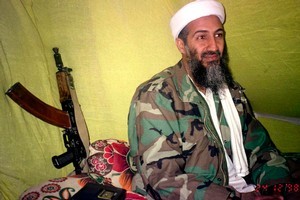 Americans finally got something to cheer about this week and boy did they cheer.
There were jubilant scenes in New York and outside the White House - although it was hard to beat YouTube's clip of the redneck riding a flag-adorned quad bike around his lawn, firing a pistol in the air and chanting "USA". Yosemite Sam couldn't have done it better.
The death of Osama bin Laden even moved the markets briefly and sparked talk of renewed global confidence in the US - very briefly. It was a pretty good indication of the symbolic power of Osama's death because it was meaningless as a real economic indicator.
The euphoria on markets lasted only hours and by Thursday night the party was well and truly over as a small piece of far less exhilarating news caused a mini market meltdown.
The data was bad but hardly apocalyptic - jobless figures showed new claims for benefits at 474,000 for the week rather than an expected 410,000.
But reaction was severe. Commodities including oil, silver and gold plummeted as much as 9 per cent. It was the biggest commodity fall the world has seen since the wild, post-crisis days of 2009.
The US may not be slipping back into recession but there is growing fear that a recovery may not be just around the corner.
Let's not forget that simply to keep the US economy treading water the Federal Reserve is still holding interest rates at record lows and is nearly three years into a programme of printing money which has seen trillions injected into the economy. These are policies that have been blamed for adding fuel to a commodities bubble and adding to the risk of global inflation.
It's no secret the sector is overheated with speculators pushing prices well beyond genuine demand.
In that respect it's no bad thing to see a little fear and caution hit the market and take a little air out of the bubble.
While New Zealand has been benefiting from the high export returns the side-effects in terms of oil prices and inflated kiwi dollar are damaging and inflationary.
The dollar fell to US78.8c yesterday from a high of US81c on Monday morning. That fall will help ease the fall in commodity prices when the value is converted to local currency.
On the down side it offsets some of the savings we might get from lower oil prices. But on balance even commodity players like Fonterra will tell you they prefer to see markets at rational levels which are sustainable long-term (although staying the high side of the historical average would be nice).
As long as demand out of China for dairy and wood stay strong then it's likely our export returns will be buffered from the worst of the reaction to a stalled US economy.
Back in America the big problem for President Barack Obama is jobs.
New Zealand unemployment figures out this week clocked in at 6.6 per cent. It's not a pretty figure but it's not particularly ugly by historical standards or by current international standards.
In the US the figure is hovering just below 9 per cent. But a lot higher for unskilled workers.
According to the Economist the unemployment rate for men aged 25-54 without high school diplomas is 35 per cent. Narrow that category to black men and the rate jumps to 70 per cent.
America's's economy, since at least the birth of the automobile industry, has been led by world-beating technology. But since it started outsourcing the production of that technology to other, cheaper, countries its job market has become increasingly dominated by the service sector.
That's one of the reason policies like the trickledown economics of Reagan and Bush have worked to create a sense of prosperity in the past 30 years.
By keeping taxes low and the property and stock market buoyant successive regimes have created a sense of wealth among the middle classes, creating more demand in the retail and service sector and therefore more jobs for the less educated and affluent. The trouble is that this is a solution of diminishing returns.
America needs a circuit-breaker if it is to lift productivity and create more productive jobs. In the Great Depression the Government was able to invest in creating those kinds of jobs.
"Only thing we have to fear is fear itself," said Franklin Roosevelt before launching the New Deal in 1933.
Any hopes Obama has for that kind of state-led job creation have been stymied by mid-term elections in which Republicans took control of Congress and started agitating for budget cuts to control debt levels.
So America finds itself politically caught between two ideological solutions to an economic malaise. It is a stalemate that is starting to spook the markets.
Osama bin Laden may be gone but this week's market meltdown was a timely reminder that Obama still has to tackle big problems on the home front if he is to win another term next year.