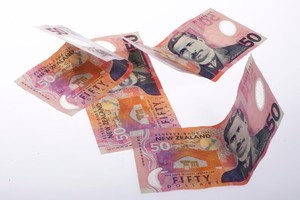 It may seem like free money - but the middleman almost always wins when you sign up to a tax refund agency.
The Commerce Commission has launched an investigation into misleading and deceptive practices by one tax refund company, after a number of customer complaints.
Commission spokeswoman Allanah Kalafatelis would not give specifics on the complaints, but said the inquiry could be expanded to more companies if the evidence pointed to wider problems.
There are many outfits offering to broker IRD refunds - and then taking a cut of up to 20 per cent. They include NZ Tax Refunds, MyTaxRefund.co.nz and MyTaxBack.co.nz.
But consumer watchdogs are concerned people do not realise they can calculate whether they are owed a refund quickly and easily - at no cost - on the Inland Revenue website.
Kalafatelis said: "Our general advice is you are able to access this information for free directly from the IRD."
NZ Tax Refunds chief executive Silla Hegarty said the average refund her company obtained for clients was $450. The company's 19.5 per cent commission on this was $87.75.
Hegarty defended the fee, saying the service gave people entitlements they would not have known about - such as the independent earner tax credit (which goes to lower income earners who do not receive Working for Families credits).
On the same sized $450 refund, My Tax Refund would take an $81 commission and My Tax would take $67.50. The lowest fee was offered by Tax Refunds, which would take a $56.25 cut.
My Tax Back was one of the most expensive - a $450 refund would see $130 deducted in fees (29 per cent), but anything above $501 would have $170 taken (around 34 per cent).
Director Nick Brooks said the company had greater overheads as it operated out of shopping malls and hired commission-based external staff to do door-to-door sales.