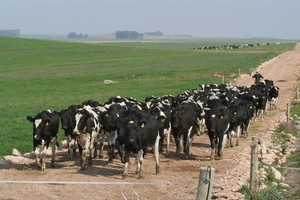 Olam International has offered to mop up the minority holdings in NZ Farming Systems Uruguay for about $37.6 million, paying the same price that gave it control of the South American dairy farm developer last year.
Farming Systems issued a 'don't sell' notice pending an independent evaluation of the offer. Olam owns 78 per cent of the company and is offering 70 cents a share for the remaining 22 per cent.
That represents a 27 per cent premium to the last trading price of the target's stock of 55 cents.
Under the Takeovers Code, Olam would dispatch a formal offer to shareholders in the next two weeks and Farming Systems would respond with its target company statement, which includes an independent assessment of the offer.
In February, Farming Systems said it may not turn a profit for two years and wants to raise US$110 million to develop its business and repay Olam a US$50 million loan.
Singapore-based Olam, a global commodities trader and food business investor, took control last year.
The business plan for Farming Systems involves reducing the effective dairy farming area by 20 per cent while building more milking sheds.
It expects to triple milk production to 300 million litres over the next two years, with the herd number forecast to rise to 48,000.