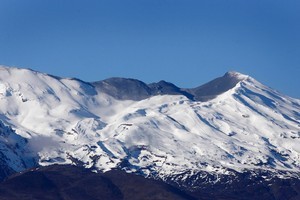 Ruapehu will sell dinners and ski lessons for $20.11, Oamaru will bring together seniors for Golden Oldies rugby and Bluff hopes to catch oysters past their season for the World Cup.
All over New Zealand, local authorities are looking for ways to make the most of the tournament and its tourism opportunities.
The biggest World Cup budget among councils is Auckland by far at about $100 million, but many others in the rest of the country have also planned projects to coincide with the tournament.
Clean-ups will be common - Wellington has budgeted $350,000 for a sweep of its streets and Kapiti $80,000 to clean its parks and toilets.
Many councils are also sprucing up their regional fields for training and putting up new signs on their roads.
But among the more unusual ideas is Ruapehu's plan to have businesses sell items around town for $20.11, tying in with promotions for RWC 2011.
The district has budgeted $5000 for the marketing and hopes to have dinners, ski lessons and rental packages, and even accommodation priced at $20.11.
"Many other regions are hosting teams and games so we've had to come up with an imaginative approach," said Mike Smith, acting chairman of Visit Ruapehu.
New Zealand will also come alive with hundreds of events during the tournament, all designed to promote the Kiwi culture and economy to visitors.
A lottery fund of $9.5 million will pay for 175 public events that will form the REAL New Zealand festival - the first nationwide festival to be staged alongside a RWC tournament.
Internal Affairs Minister Nathan Guy said the festival would celebrate the arts, food and wine, heritage, culture, entertainment, business and lifestyle.
Big-ticket items include $350,000 to project New Zealand images on to Wellington's most prominent buildings, but most events are on a more local level.
Weaving workshops will be held in Russell, a scallop festival in Whitianga, a "gumboot jam" in Taihape and jazz performances on Queenstown's lakefront.
The Ministry of Culture and Heritage will spend roughly $3.4 million on RWC-related projects, much of it from funds normally spent overseas to promote New Zealand.
"Because the world is coming here it was appropriate for activities to be supported in this country this year," explained chief executive Lewis Holden.
Events will be run to enable local businesses and entrepreneurs to network with international counterparts.
As well as being given money to perform with Dame Kiri Te Kanawa and others at public events, the New Zealand Symphony Orchestra will provide musicians for smaller functions.
Auckland's Pacific culture will be on show using money set aside for a version of the annual Style Pasifika showcase in RWC finals week.
The event will be a mix of fashion, music, culture and dance designed to appeal to local and international audiences.
Maori traditions and culture will also feature in many events, including a kapa haka showcase and performances at the "plastic" Waka Maori on Auckland's waterfront.
New Zealand's role as host of the cup has been promoted through more than 40 international events hosted by NZ Trade and Enterprise.
"These events help our overseas staff identify businesspeople coming to New Zealand for the cup, and from there establish new networks and contacts for the benefit of New Zealand businesses," said the project director of NZTE's RWC team, Bruce Gadd.
In the past month alone, events have been held in Milan, Seoul, Kuala Lumpur and Perth.
And the RWC prize, the William Webb Ellis trophy, was on show during a recent event at the United Nations in New York.
In the South Island, Hanmer Springs' hot pools and surrounding area will have been upgraded for a total of $8.7 million, and Oamaru will host an international Golden Oldies rugby festival.
The Bluff oyster could also make a later than normal appearance on menus in Invercargill if Venture Southland can succeed in extending the harvesting season by a month.
"It may be that we have got to work with the industry to hold back some of the quota and give more people coming a taste of this delicacy," said group manager of community and events Rex Capil.
Some councils said they could not give full details of their Cup-related spending because of their contracts with tournament organisers.
Rotorua District Council events and venues general manager Peter McLeod, for example, told the Herald: "Some of the questions you ask form part of a contract we have with the Rugby World Cup organisers and as such some details can't specifically be disclosed."