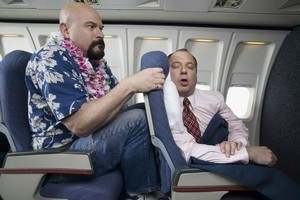 Air travel in economy class is rarely comfortable but, for a handful of unlucky travellers on many flights out of New Zealand, it's especially rough - particularly on long-haul routes.
Air New Zealand, American, Emirates and Singapore are among airlines which have planes fitted with non-reclining or barely reclining seats.
Some are against the toilets at the back of the aircraft, where passengers suffer the sounds and smells being created on the other side. Others are in front of the emergency exit rows.
And even requesting a seat before check-in doesn't necessarily protect you from drawing the short straw.
"It's difficult to avoid, unless you're paying for business class or premium economy," said Flight Centre general retail manager Maree Hansen.
"A family of four could turn up at check-in and not have pre-allocated seats. The children can't sit by themselves, so it becomes a domino effect."
Hansen said people who requested one of the roomier exit-row seats could also be swapped with a tall person - or a frequent flyer.
Likewise, an elderly person could be moved because anyone seated by the door must be fit to help in an emergency.
Air NZ's fleet of Airbus 320s fly domestic and international routes and have six seats that do not recline.
Spokesman Mark Street said this model flew to the Pacific Islands, the east coast of Australia and around New Zealand. He said all seats reclined on flights longer than 10 hours.
American Airlines has 12 seats in front of the emergency exit rows that do not recline on all models except Boeing 777 aircraft.
Spokeswoman Lauren Gass said seats were assigned randomly and often customers could change their assignment when booking online or at the self-service check-in machine.
A spokesman for Emirates said the airline had "variations" in foot space and seat recline in economy class but all seats were charged at the standard rate.
Singapore Airlines general manager for New Zealand James Lim said there were two rows of "limited" recline seats on all flights to and from New Zealand but would not disclose how far back they went.
It is understood to be only a few centimetres.
Lim advised passengers to request seats through online check-in but added allocation was not guaranteed.
Qantas corporate communication adviser Thomas Woodward would not be drawn on the number of non-reclining seats on the company's planes.
"The vast majority of Qantas economy seats across our fleet do have full recline - including those at the back of the cabin."
Cathay Pacific marketing manager Ian Herald said all seats on its aircraft reclined the same distance.
On a wing and a prayer
Passengers flying into Auckland from Singapore on Friday had mixed experiences on the 10-hour journey.
Regular traveller Andrew Pearce, 56, flew with Singapore Airlines and was disappointed it had no lie-flat seats in business class.
"It wasn't as comfortable," he said.
Economy class traveller Andrew Reid was relieved he wasn't placed in the back row but said he struggled to find a comfortable position.
"It was cramped. I was in the middle of the middle row. It was a very full flight."
Company director Theresa Hall, 40, said she had sat in the back row before and it was the worst flying experience she'd had. This time she flew business class and said the extra money was worth it. "You can't operate the next day otherwise."
But travellers on JetStar's new Auckland-Singapore service were happier.
Richard Mayo-Smith, 30, said the ticket was about $1000 cheaper than Singapore Airlines and he had three seats to himself.
Television producer Lisa Schulz, 35, took advantage of the option to pay an additional $39 to guarantee a seat with more legroom. "I was able to sleep for three or four hours," she said.