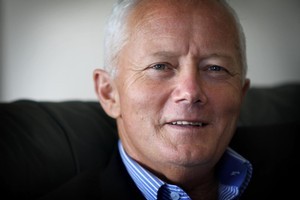 The cheerleader for Auckland enterprise is such a ray of sunshine that it is something of a revelation when he gets teary eyed. We're used to Michael Barnett plucking hope from gloomy economic forecasts as frontman for the Northern Chamber of Commerce, or putting a warm spin on things in his (sometimes equally fraught) sideline as a politician.
It's hard to think of anyone better qualified for his latest role - asked by Rugby World Cup Minister Murray McCully to "leverage" business opportunities down on Queens Wharf during the tournament in a venue called The Cloud.
And if the flatlining economy really is getting on top, there's his investiture as an Officer of the NZ Order of Merit to cheer him up.
Relaxing on a comfortable leather couch at the Karaka lifestyle block he shares with wife Kim and their two children, surrounded by pictures of ducks and birds, the master of corporate schmooze is comfortable talking about the rugby assignment.
It has caused a stir because, until a few weeks ago, most of us thought Queens Wharf would become Party Central, a venue for rugby fans to congregate during the six-week event and do what fans do - which, most assume, boils down to drinking a few beers while watching the game on giant screens. Turns out the Government sees the wharf also as a place to do business; an opportunity to ensure hosting the cup returns longer-term dividends than the "100,000 credit cards" will provide.
As if the giant tourism ball were not enough, the $9.8 million Cloud, aka The Slug, will be a kind of expo for NZ Inc. The wharf will also host RWC Festival events - surely raising the risk that Party Central could get a bit messy?
At least Barnett, 61, is accustomed to wearing several hats. "Remember that it's a huge structure, nearly 200m long and 30m wide," he says, which will be needed as a fan zone for just 17 days of the 45-day tournament. On those occasions, "It will still be a space to which people can come and just watch rugby and be entertained." Barnett wants The Cloud to tell a story about New Zealand and New Zealanders, utilising those big screens and static displays which can be tucked away on game days - he's thinking Air New Zealand cuddle seats and yike bikes and other "items which show our creativity and ingenuity".
"The Cloud is going to be so unique and so different it's going to be an instant icon. People will want to visit it. Of course, there's a media centre and a VIP centre but the balance is for telling our story."
Someone had warned me that his voice may be a bit croaky, a legacy of treatment for throat cancer last year, but his larynx is as well oiled as ever.
Later, he talks of the "collision of circumstances" which distinguish the New Zealand story. "Take a Central Otago landscape over here, all craggy and rocky, and merino sheep over there - and you have Icebreaker. Or the popping out of a spinnaker on a yacht morphing into material that becomes a Trelise Cooper design. Creativity is a part of who we are."
This is standard Barnett. Herald files are littered with his regular missives on issues shackling business growth or holding back Auckland. They reflect what he calls his solution-focused approach - "I'm almost intolerant of people who sit down and want to discuss the problems." He's been CEO of the chamber for so long (since 1989) that few can recall what his credentials were. He was born and raised in Hamilton, one of eight children (he has a twin, Philip, who lives in Whakatane) and went to Catholic schools. He worked for a steel fabrication firm, then an importing business which steered him towards a role with the chamber on international trade agreements. He says he never made it rich and still buys Lotto tickets. "I always saw part of my success as being in Auckland."
A bow tie (dropped a decade ago for a casual look) became his signature, and his positivity softened the chamber's image as the crusty, conservative face of Auckland business. He championed equal opportunities and programmes to help migrants and at-risk youth into work. His forays into politics - first on the Auckland Electricity Consumer Trust, then with the Auckland Regional Council - came because his constituents needed a voice, he says. They inevitably raised conflict-of-interest concerns among business purists. "I managed it." Then, he agrees, "Got away with it is probably a good expression".
He's skirted other controversies over the years: a big loss on the chamber's involvement in the 1993 round-the-world race stopover; the 1998 power blackouts and subsequent privatisation debacle; the "frayed-A" logo that failed to fly.
Critics query his unwillingness to run for chairmanship of the ARC in its last term. Instead, he forged a good working relationship with Mike Lee and the pair, polar opposites politically, became friends. He has at least as many influential friends as detractors; the criticisms are of a style vs substance nature. But even critics concede he's ideal for the Rugby World Cup role.
He's struck what seems a healthy work-life balance, rising before dawn to beat the traffic and get to the gym and the evening drive back to the Karaka countryside helps to leave work issues behind. He clearly values time with Kim and their children Maddison, 16, and Fin, 10 (he has three grown sons from his first marriage) and with the pedigree Highland cows he can see from the couch - great hairy, horned beasts whose behaviour he compares to a corporate pecking-order. He likes the way they fall into line when he's feeding out. "If only I could get them to vote ..."
It's when I query whether he needs more work so soon after battling cancer that Barnett's sunny aura dissolves in tears. He was diagnosed with throat cancer in May last year, just as he was poised to bid for the Super City mayoralty. He was reduced to railing about the absence of candidates with a fresh approach for the new role.
Throat cancer is highly treatable if found early and the long-term prognosis is good. That doesn't lessen the initial uncertainty and impact of the diagnosis; nor is the treatment anything less than torrid.
It's also usual to be emotionally fragile for months after surviving a life-threatening illness - even for relentless optimists. "It was probably one of the cruellest things going through that treatment. I had lived my life like I was bullet proof.
"I think what I did was redefine a lot of things. You have to redefine fear, redefine life - words you always believed you understood like sorrow, despair, hope and love.
"You go through periods of massive doubt and fear and concern for the effect on people around you."
Has the experience changed him? "I think I'm perhaps more upfront with people. There's this realisation that life is short and things have to be done, although I was always very much a solution-based, action-based person ..."
If we had time he could, he says, quickly solve the growth problems confronting city and country - "write it up, get it done. People would buy-in as soon as it was posted."
But, in his experience, our political and bureaucratic structures are "too much about the process rather than progress". "Auckland voted for change but what we've got is very much a replica of what we've had so far. "People keep telling me to be patient."
The cancer episode has laid to rest Barnett's mayoral ambitions - at least for now. "No," he says. Then adds: "Saying no is awfully final. Right now I think I have a huge debt to pay back to my family and a huge responsibility to focus on myself."
The chemotherapy has left a side-effect which he hopes will dissipate in time for the World Cup schmoozing. He has trouble manufacturing saliva and has lost his sense of taste. He can appreciate a pepperoni wrap but more subtle flavours are lost on him. More importantly, he cannot drink champagne. "My mouth goes like cotton wool. I'm looking forward to the day I can have that first glass.
"I'm just impatient. It should have happened by Friday lunchtime ..."