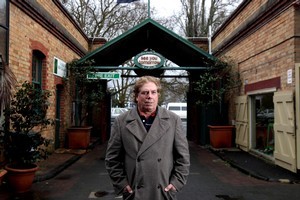 The financial fate of struggling Auckland developer David Henderson hangs in the balance, after creditors voted for his repayment scheme yesterday.
Bankruptcy proceedings before Associate Judge Doogue could go to the High Court at Auckland around 10am today but Daniel Grove, Henderson's barrister, said nothing was certain. Creditors agreed narrowly yesterday to Henderson's $1.5 million repayment of $127 million claims and now Grove will seek court approval of that scheme.
"The creditors voting is only the first step. It's still got to get court approval so we'll be filing that application," Grove said.
Attempts by other developers to strike compromise deals have mostly failed but the ex-Victoria Park Markets owner succeeded in getting 75.6 per cent agreement. The Princes Wharf developer faces $127 million in claims, many personal guarantees on debts, and he is offering to repay three equal tranches of $500,000 in June, the same June next year, then the final $500,000 next December.
Babcock & Brown, Bank of Western Australia, former wife Rochelle Henderson, Inland Revenue, Bridgecorp and Downer Construction are all chasing him for long outstanding debts, although Henderson disputes Downer's claim.
Downer, claiming about $4 million, was barred from voting but if it had been allowed, the builder would have ensured the proposal failed, one party close to the vote said.
Henderson's affidavit in support of the proposal said he was like many other property developers.
"The collapse of the secondary finance companies has led to a failure for my companies to be able to commence any of the planned projects. I borrowed a significant amount of money from Babcock & Brown, a company now in receivership. Babcock & Brown were one of the larger companies that took positions in property developments in New Zealand and Australia," he said.
"The amount borrowed from Babcock & Brown was used to refinance debts due to Strategic Finance Group for Victoria Park, 200 Victoria St, Precinct Apartments and Centro at Liverpool Street. That sum has increased significantly due to interest and costs," he said.
He also revealed how he had been trying to sell his Princes Wharf apartment above the Hilton for more than two years. "The apartment will be sold as neither myself nor my companies can afford to pay the interest. The first mortgagee has unsuccessfully, to date, tried to sell the apartment and now I understand intends to enforce security either by mortgagee sale or sale of the apartment as part of the sale of the Hilton Hotel," he said.
"My financial position demonstrates that myself and entities associated with me owe a total of $127,001,658.30. If this proposal is not accepted by my creditors and I am adjudicated bankrupt, there will be no payment whatsoever to unsecured creditors," he said.
He wants to draw a $75,000 annual salary from Orewa East Trust, managing Victoria Park Markets' redevelopment and spend $30,000 on food and living expenses, $25,000 annual rent, $3000 medical fees, $6000 child maintenance, $7000 insurance and professional services and $4000 for utilities.
"If I am bankrupted, I will not be able to trade. The only means for me to pay a dividend to my creditors is by carrying out my business. The only project that is feasible is the Victoria Park Market. Westpac has provided funding for this development. The site has been sold to an entity in no way associated with me," Henderson said.