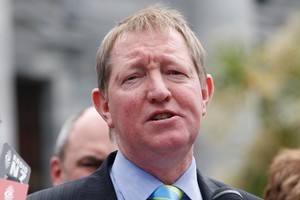 ACC has reintroduced experience rating to the calculation of levies for employers and the self-employed.
ACC Minister Nick Smith says it will make ACC levies fairer and provide better incentives for business to improve workplace safety.
The Council of Trade Unions, Labour and the Greens argue that it will encourage employers to pressure workers to lie about whether an accident occurred in the workplace or somewhere else.
"The international evidence is that it leads to under-reporting of accidents. Reducing the number of claims is not the same as reducing the number of accidents," CTU economist Bill Rosenberg said.
With the prospect of the work account being opened up to competition, experience rating was a defensive move on ACC's part, as private insurers would price on that basis, he said.
ACC's response is that experience rating relates to moderate-to-serious injuries - those which require less than a week off work do not count - which are harder to attribute to a different cause or location.
Any sudden and dramatic change in a business's safety record would invite investigation and GPs would be reminded of the importance of correctly attributing claims.
For smaller firms - with an annual ACC bill below $10,000 - there will be a no-claims discount of 10 per cent if they generate no compensation claims. If they generate more than 70 days' compensation claims they will incur a 10 per cent loading on their levies. For those in between there is no change.
For firms with an ACC bill larger than $10,000 the system is more complex and could mean adjustments of up to 50 per cent, up or down, in their levies. There are two layers to the adjustment.
The more important, the experience rating modification, compares the firm's performance with the other firms in its levy risk group, with a 75 per cent weighting for rehabilitation costs, including income compensation, and 25 per cent for medical costs.
That could result in adjustments of up to 35 per cent either way in a firm's levies, depending on their relative performance.
The other adjustment is designed to reflect the fact that large employers as a rule have much lower injury rates than small employers, ACC general manager Keith McLea said. For that part of the calculation they will be compared with their peers (by size) within the same levy risk group.
The very largest firms will still have the option of being accredited employers, self-insuring for all or part of their ACC liabilities, and are expected to take it. At the moment, 136 firms are in this category, but they account for about a fifth of the workforce.
McLea said experience rating was designed to be revenue-neutral for ACC, with the discounts and the loadings evening out. "We have done a survey and 70 per cent of employers expect to get a discount. So some of them might be surprised."
Alongside experience rating, which will be mandatory, ACC will continue to run voluntary programmes that provide a levy discount in the 10 to 20 per cent range to firms which can demonstrate they have sound health and safety practices and standards.
"If you have good health and safety practices in place you should have fewer injuries," McLea said.
But the CTU says experience rating will undermine industry-wide approaches to health and safety, as employers focus on their own enterprises and have an incentive not to share what they learn.