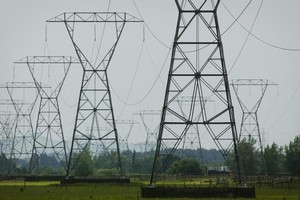 Power companies have again attacked Genesis Energy after it said they could have avoided paying extreme prices during a price spike last weekend.
Genesis said yesterday it was not its role to cover the spot market risk some chose to take.
Other state-owned electricity companies including Mighty River Power, Meridian and Powershop stand to lose tens of millions of dollars after being exposed to buying electricity at wholesale prices from Genesis more than 200 times higher than normal for a six-hour period during transmission line maintenance.
Genesis had offered hedges to cover the potential trading risk market participants faced from the outage as late as Friday afternoon, and hedges were also offered during the constraint itself, the company said yesterday.
Prices offered into the wholesale market by Genesis Energy were designed to recover the costs of operating the expensive thermal power station at Huntly, which had high operating costs and declining use.
Prices when the thermal units did run had to cover the many trading periods when the units did not run, Genesis Energy said.
For many months it had been offering hedges and other forward products to the market to allow participants to prudently manage their risks.
Powershop chief executive Ari Sargent said that yesterday's statement from Genesis looked like an attempt to deflect attention away from the core issue that it "blatantly abused transient market power".
Genesis was prepared to sell to the market from Huntly at less than $75/MWh on Saturday, March 19, but a week later it was was only available at prices in excess of $19,500/MWh.
Hedges offered were in excess of market rates.
"Their response indicates they are showing no remorse and are attempting to lay blame on the transmission system and the market, knowing full well they deliberately manipulated their offers," Sargent said.
Meridian Energy's general manager of external relations, Guy Waipara, said transmission outages across the national grid occurred weekly and Saturday's transmission outage was one of many over the course of a year and were typically not hedged for.
"There was no shortage of capacity nor was there a shortage of energy in the market so there was no fundamental reason to consider the need to hedge other than [after the fact] the need to guard against the behaviour of a participant."
The Electricity Authority is now investigating complaints of an "undesirable trading situation".
Acting Minister of Energy and Resources Hekia Parata said she hoped the authority reported "in an expeditious manner".