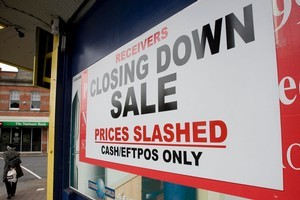 For the price of a cup of coffee, many owners of small and medium-sized businesses could save themselves a lot of grief - and money - if they happen to get caught up in someone else's problems.
It costs only $3 (plus GST) to go online and register a security on the Personal Property Securities Register (PPSR), ensuring that when a business goes bust, you will move up the queue of creditors.
Parliament passed the law which introduced the register in 1999, and it has been operating under the aegis of the Companies Office since 2002. But almost everyone in the insolvency industry admits there is widespread ignorance about its existence.
Large businesses are generally savvy about such issues, and usually have contracts with appropriate retention of title clauses. But according to insolvency expert Kim Powell, many smaller businesses are clueless.
In 1999, Powell and his business partner Mary Bayne established EDX Ltd, which specialises in helping businesses deal with the Personal Property Securities Act (PPSA).
"For the people that know how to use the act, it's working extremely well," says Powell. "The difficulty is, the level of awareness about the act is still very low, even though it has been with us for nine or 10 years now."
Like house owners who decide to buy insurance after their homes have burned down, many of EDX's clients have previously been stung by a bad experience with a receivership or liquidation, he says.
He guesses that as many as three-quarters of all small and medium-sized businesses are unaware of the PPSR.
A common problem is when businesses agree to lend equipment to a client, such as a coffee vendor which lends a cafe a coffee machine on the condition it buys its beans. In legal terms, this is known as a bailment.
"Even though I as a coffee vendor own that machine, and there is no intention that the cafe will ever own it, it can create a security under the PPSA. And if that's not registered, then if the cafe becomes insolvent you could lose that machine to a competing creditor. We've actually seen it happen time and time again."
Powell recalls one client who lost a $350,000 piece of equipment because it was not registered.
"For a very small business, losing just one key piece of equipment could be near-fatal. It's not necessarily the overall cost, but the impact it has on your business."
Last year, Labour MP Shane Jones highlighted the case of a constituent who failed to register $200,000 of tiles he gave to a building company. When the company went bust, the constituent was shocked to learn he wasn't entitled to retrieve the tiles.
"He is learning a very valuable - and indeed highly costly - lesson that once a receiver is appointed, if the provider of either a service or material has goods that have not been registered, then the prospect of that party recovering them is very, very slight," Jones told his fellow MPs.
According to Powell, the Ministry of Economic Development has done a reasonable job of publicising the PPSR. Powell has also offered to run seminars on the act in conjunction with major accounting firms, but says interest from their clients has been poor.
"It's the old lead-a-horse-to-water argument," he says. "We'd love to see it publicised more, but how to do it effectively, I don't have any solutions."
On the bright side, for once New Zealand is ahead of Australia. In 2009 Australia passed its own version of the PPSA, and its register is expected to come into effect this year.