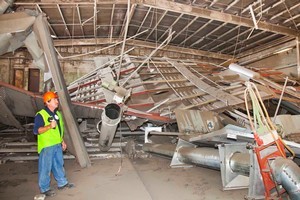 More than 200 workers laid off from a Christchurch textile plant may not qualify for help through the Government's earthquake assistance package.
Godfrey Hirst subsidiary Canterbury Spinners today announced its plant in suburban Bromley had suffered irreparable damage in last month's quake, forcing its closure.
All 220 workers were told it would not reopen at a meeting at 2pm today.
Godfrey Hirst New Zealand Limited general manager Tania Pauling said rebuilding the plant was estimated to take more than 18 months and cost tens of millions of dollars.
The workers would receive redundancy compensation and 50 would be offered positions at the company's two other plants.
However, it was not clear whether the laid-off workers would qualify for the Government's quake assistance scheme because the company was not locally owned and was over the specified size.
The National Distribution Union (NDU), which represents many of the workers, said that would be unfair.
"The Government needs to provide more support to assist these workers," southern region secretary Paul Watson said.
"The future of many of their homes is uncertain and now they have to face worrying times in terms of finding alternative work that can meet their current living costs."
The union was clarifying the workers' eligibility for the quake assistance scheme with the Ministry of Social Development.
NDU general secretary Robert Reid said he understood the eligibility criteria could differ between employers who received payments to keep staff on and employers who laid staff off.
Asked about the eligibility issue, Prime Minister John Key said exceptions to the scheme could be made.
"We've always said on a case by case basis we'll go and have a look at it," he told reporters today.
"They are eligible for the unemployment benefit, they're not excluded by that - it's just the package we put in place was a more rapid response."
Social Development Minister Paula Bennett said while she did not have all the details, the ministry was looking at different ways to assist the workers.
"If they don't fit into the employment support then we need to look at what the benefits system can do for them, and so we're looking at other options."
Questioned in Parliament today by Labour MP Darien Fenton, Ms Bennett said she had tried to make exceptions for some workers excluded from the scheme because they were employed by multi-national or national companies.
It was too soon to say whether the quake assistance scheme needed to be broadened, she said.
"We're working our way through scenarios and we're very aware that there are going to be a number of redundancies, and people that are affected by this, and we need to look at what sort of support packages are (available) for them."
Ms Bennett said she was not prepared to a put figure on the number of job losses expected.
"We know there will be jobs losses and today is an example of that. To what extent, and where the other opportunities are going to open up, is what we need to look at."
Ms Fenton also questioned why the Government's wage subsidy was not available in cases where employees were unable to attend work because they needed to support their families.
Ms Bennett said there were exceptions where the subsidy was available.
"But, to be honest, as part of the recovery, those who can work need to," she said.
"We figure that there is other assistance for those who are unable to get to work. Schools being back up, like they are, should make a difference as well. But we have a bit available for exceptions and exceptional cases."
- NZPA