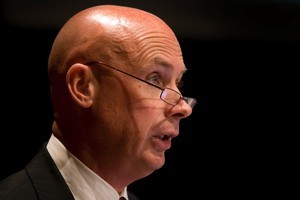 Solid Energy is prepared to spend up to $100 million drawing up a plan for the Pike River project and - in a warning to rival bidders - says it could cost hundreds of millions more to mine.
Chief executive Don Elder said the state-owned enterprise had publicly declared a bid for the stricken mine partly to point out difficulties with the project and reset expectations of how quickly the project could be restarted.
Explosions in the mine killed 29 workers last November just as the troubled project on the West Coast had begun producing coal.
Elder said Solid Energy's unusual move to go public and point out the difficulties was not an attempt to drive down the price sought by the receivers.
He said any Coasters and other potential bidders who thought they could go in easily through the existing mine infrastructure or bring in equipment and start open-casting within a year needed to think again.
"Both of those are remotely possible but unlikely."
Receivers Pricewaterhouse Coopers says up to 12 companies are interested in buying the mine. These are believed to include major overseas mining companies and steelmakers.
Elder said his company was prepared to spend $30 million to $100 million on a conceptual mine plan that might conclude the coal could not be recovered safely or economically.
Findings of a royal commission of inquiry would have a bearing on future mining techniques.
Pike River Coal drove a large tunnel 2km into the Paparoa Range to reach the seam but experts have said this was inherently dangerous because of problems venting high concentrations of methane gas.
Elder said a combination of tunnelling and open-casting - cutting into the hill above the coal seam - would be an option if Solid Energy was the successful bidder.
It was not possible to estimate the cost of resuming operations in the environmentally sensitive area.
"This is not a tens-of-millions operation, it's a hundreds-of-millions in exploration, planning and development work - that's assuming you can get permission to do it in this Schedule Four environment."
He said an intense environmental debate would stem from any buyer's decision to use the open-cast technique.
"Open-casting is economically, and from the point of view of scarce commodities, a better answer for a resource if you can do it but that's got to be balanced against the environmental consequences. That will not be an easy discussion and it's hard to see which way that will go."
The receivers are moving to finalise the sale, which will include some above-ground infrastructure, a damaged tunnel on which $200 million has been spent and the licence to mine the hard coking coal for 20 years.
Elder said that given Pike's liabilities and uncertainty over the viability of mining, he was not prepared to name an offer price.
"We're chucking our hat into the ring - where we get to is up to the receiver."
The first step Solid Energy would take would be recovery of bodies, which could involve redrilling the existing network of tunnels to reach them which he rated unlikely or incorporating the area where the men were last known to be in a future mine plan and reaching them at a later stage.
Solid Energy was prepared to take the risk of walking away after spending up to $100 million. It had spent that amount on tens of "parked" prospects in the past five years.
Hamilton Hindin Greene analyst James Smalley said Solid's public declaration of interest would put it near the front of the queue in future negotiations on the mine.
"They do make some valid points. If anyone's got some expertise they have."