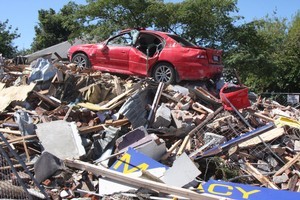 A cordoned area in the north of Christchurch city centre is set to be opened to the public.
Green zone 3, bordered by Bealey Ave in the north and Salisbury St in the south, has been closed off since the devastating 6.3 magnitude earthquake hit the city on February 22.
It was opened to those who could provide proof they owned a business in the area this morning. Anyone will be allowed to enter the zone from 8am tomorrow.
Civil Defence has allowed those whose buildings received a 'green placard' - which indicates it sustained no structural damage in the quake - to reopen their businesses.
It warned some may have to force their way through boarding to get into their buildings. Locksmiths and building teams would be on hand to help with access.
Police have stepped up patrols in the area, as it was expected there would be problems securing some buildings.
- NZ Herald staff